The Big Straw Knot
So this page will be dedicated to Andy and I tying the knot!
In case you are wandering where the big straw came from, be warned, super cheese ahead! My surname translated means 'big' and Andy's surname, Stent is a tube or straw like thing (okay, usually used in surgical procedures but I'll leave that part out) hence, the name big straw! :)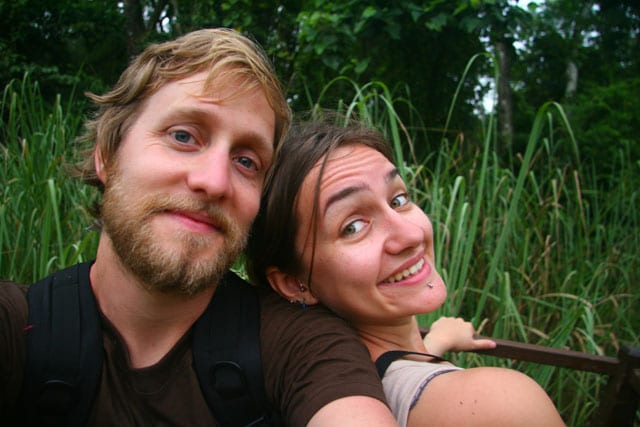 Our Engagement
Andy and I didn't do the conventional things when it came to getting all engaged. See we picked out the ring together at Churchill House, an incredible antique shop in the same road as my childhood home about 6 months before he actually proposed. That way, I got the ring I wanted so less pressure on Andy, and he could still surprise me and propose whenever he wanted!
Our 2010 centred around our trip to Nepal in September which we had been planning for ages and I suspected that this might be when he was going to pop the ol' question, but knowing me, and knowing when I might expect it – like the first time we saw the Himalayas in Nagarkot or when we were at Fewa lake looking at the highest Buddhist Stupa- he left me hanging to point that I thought he wasn't going to do it! But he picked the most perfect time. The last few days of our trip were spent at Jungle Island Resort, the most incredible rustic jungle paradise filled with elephant back safaris, jungle trekking, tiger tracking and bathing with elephants and this was the place he decided to do it and to be honest, it was better than any of the other places I had expected it! Go Andy!
Our E Party
The one thing Andy and I were unequivocal about was the fact that we wanted our wedding to be small and simple but the excitement which followed our engagement led to us maybe going a little over board.
I became obsessed with the awesomeness that is In Good Company and from their inspirational site, our hay bale picnic with 1920's jazz and Pimms engagement was spawned! The day we had the E party was fortunately one of the two not raining days Durban had in December (so someone up there must clearly sanction our union). Instead of traditional bunting which is super cool and I love, we kinda made our own but instead of colourful triangles, we hung up  photos from the six years we have been together so it doubled as decoration and a trip down memory lane! We had jugs of Pimms with mint, strawberries and blackberries with lemonade which was the perfect drink to accompany the balmy summer day. We had lots of yummy sarms and dips courtesy of our moms. All this with chilled jazz (thanks lil' sis Stent) made it the most sublime afternoon! Yay for love and getting married! What a great excuse for a Summer party with friends and family! Now to plan the wedding…..
Planning to tie the big straw knot
We threw around a LOT of ideas about how and where we wanted our wedding, but for some reason, I couldn't get the uber excitement that all other brides seem to have when planning their wedding. And then I found it! Inspiration hit in the form of  A Practical Wedding and Offbeat Bride, these 2 sites made me realise it was ok to have our wedding according to our own terms, and whaddaya know? I started getting suuuuper excited! After much deliberation, Andy and I decided that perhaps our best wedding possible was the one we always spoke about but never really imagine happening for real. About 3 years ago, while on holiday in Mozambique we chatted about how cool it would be to get married on the beach with a chilled fish braai afterwards with everyone just drinking local 2M beer and relaxing- that was when the idea of getting married was still waaaaay in the future. The more we though about it, the more we realised that is exactly what we WANT! Plus then we also get to SCUBA in one of the best dive spots in the world! we <3 to SCUBA!
We have decided to have a long engagement to the dismay of some people. But it's the most practical for us, in between us both having full time jobs, trying to run 'knot just pictures' and Andy and Habit To working on their album and training for the Comrades Marathon we didn't want the added stress of hurrying a wedding plan. So we have decided on June 2012 in Ponto D'Ouro in Mozambique (June is also our dating anniversary and winter, which is what we wanted from a photography point of view, winter afternoon light is what we want for our own wedding pics and will look killer)