Bolivia – The Salar
Day 3 of our desert trip dawned with Andy thankfully feeling a bit more human, which meant Mark and I could stop referring to him as "grandpa".  As our Hospedaje (homestay with locals) had been right by Laguna Colorada, we started our day off there. It was pretty overcast and damn cold with the wind howling most of the time as we left the protection of our Land Cruiser to go and explore each of the new places we arrived.
It was really only on day 3 that we started seeing many other 'turistas'. Having started our tour from Tupiza meant we had missed the locust-like masses of Land Cruisers that head out from Uyuni, all at the same time and all arriving at the same places. Luckily we mostly only crossed paths with them but it was only then that you realise how popular these trips into the desert really are. Day 4 is generally the highlight for most people… and im sure when you see those pics you will understand why.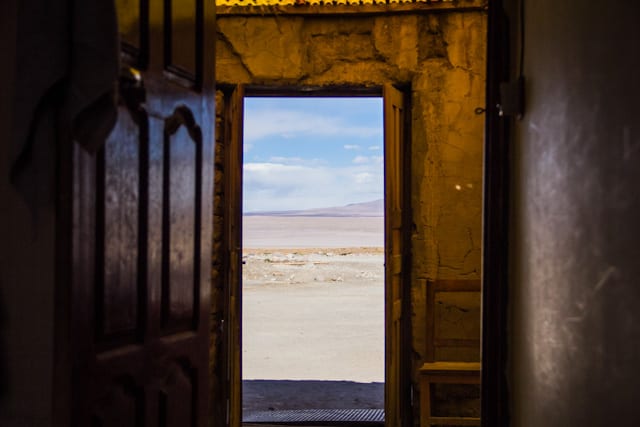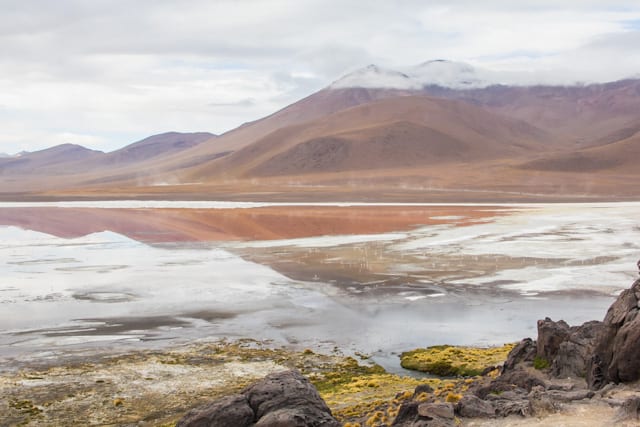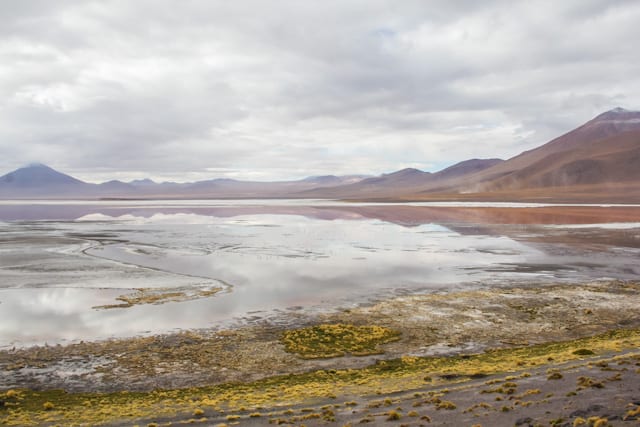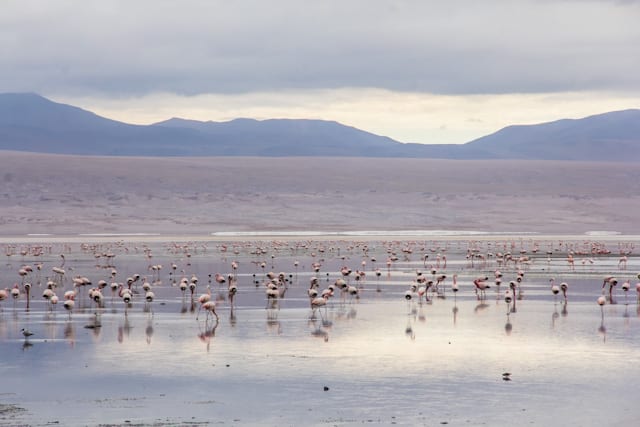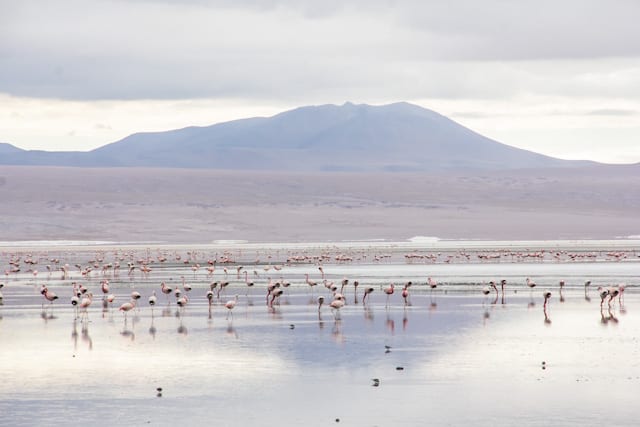 We crossed the Desierto de Siloli where we saw the famour "rock tree" which also looks like something out of a Dali painting. Dotted along this part of the desert are random clumps of rock that look haphazardly scattered around.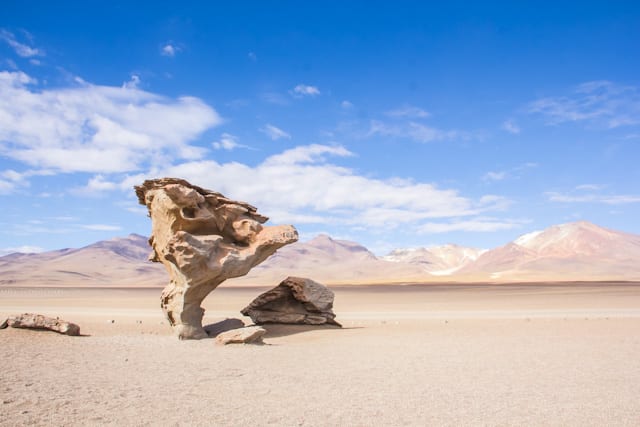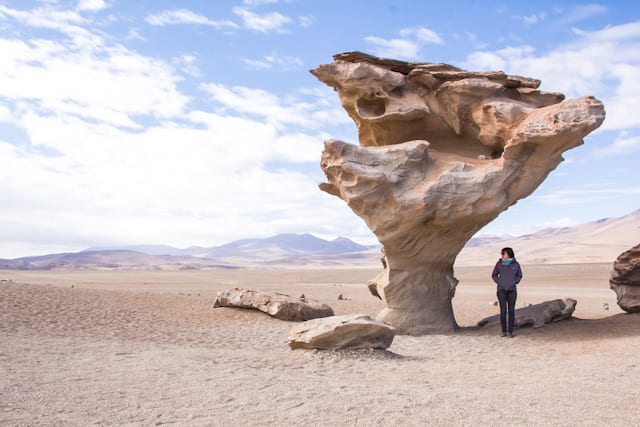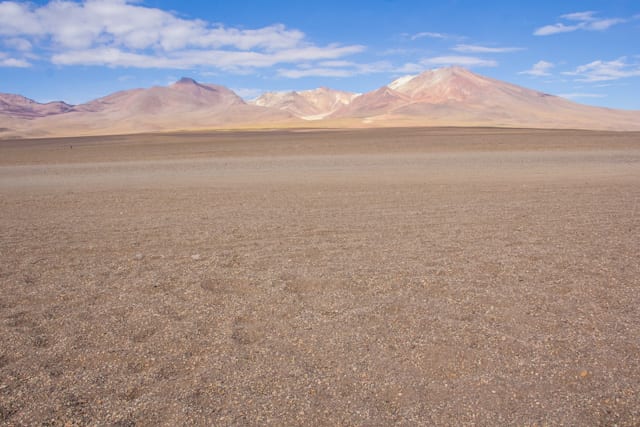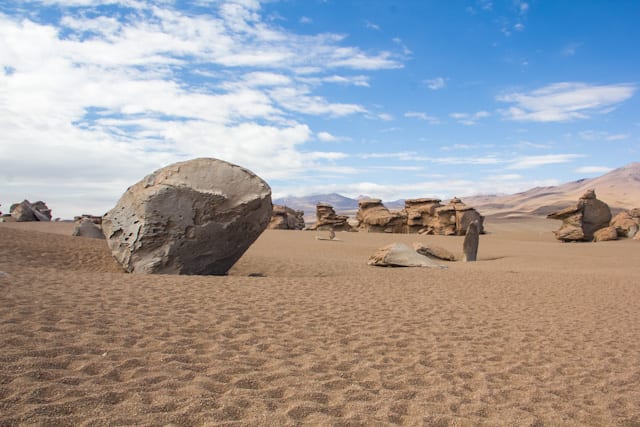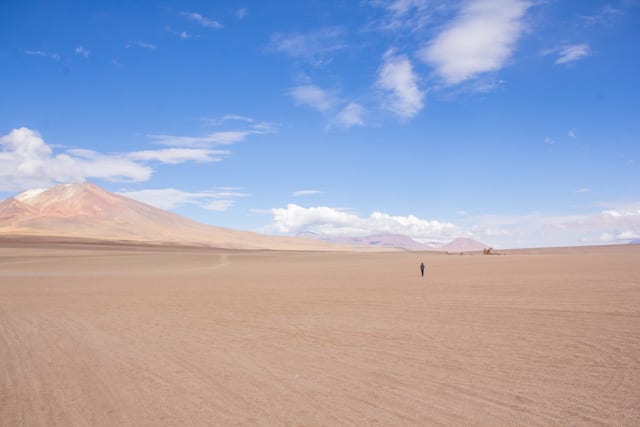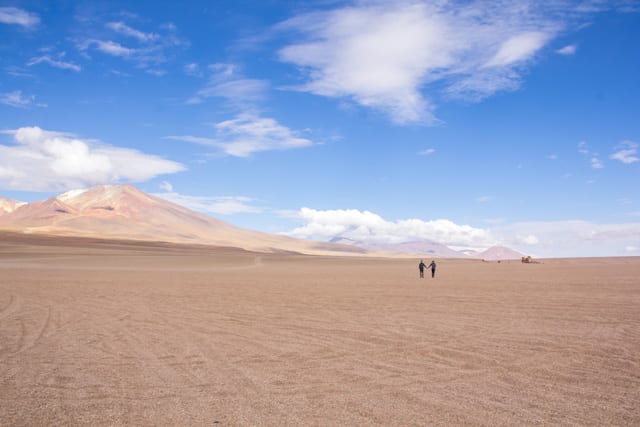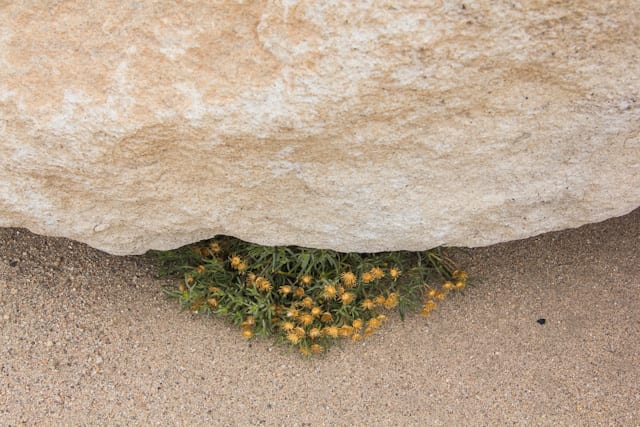 Another awesomely bright Laguna with yet more flamingos, this lot were super chilled and didnt flinch when we came near them.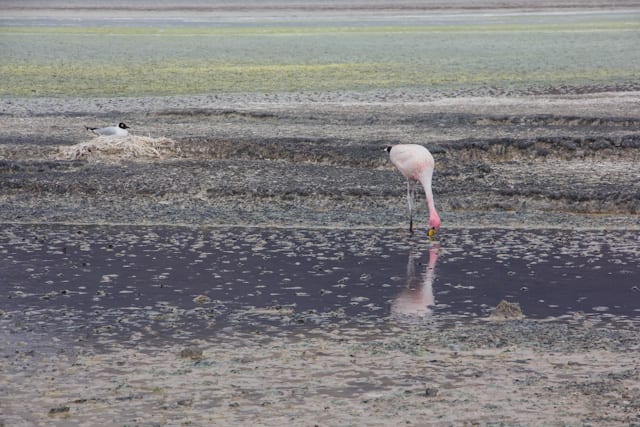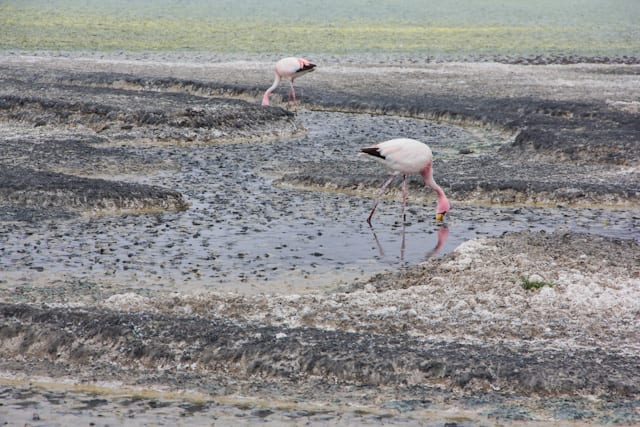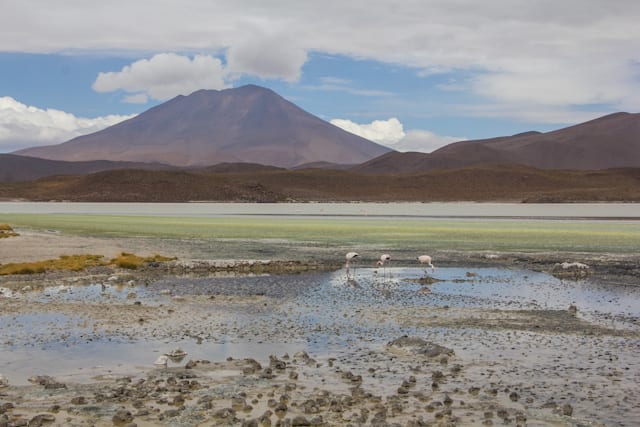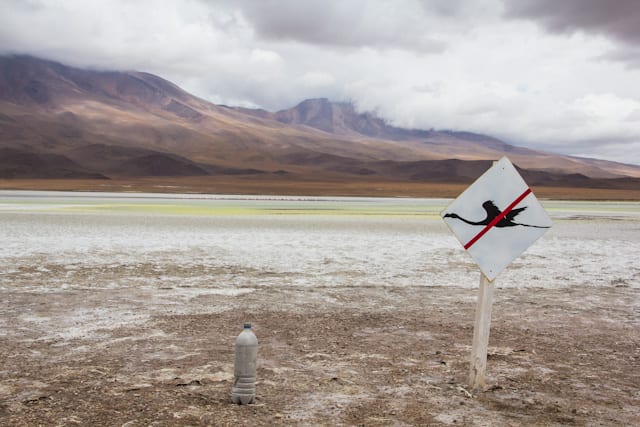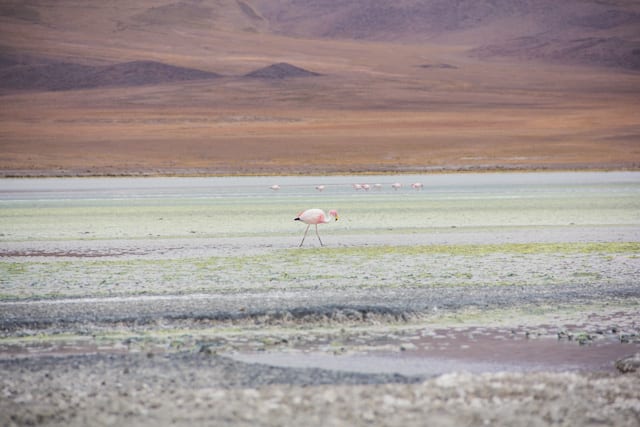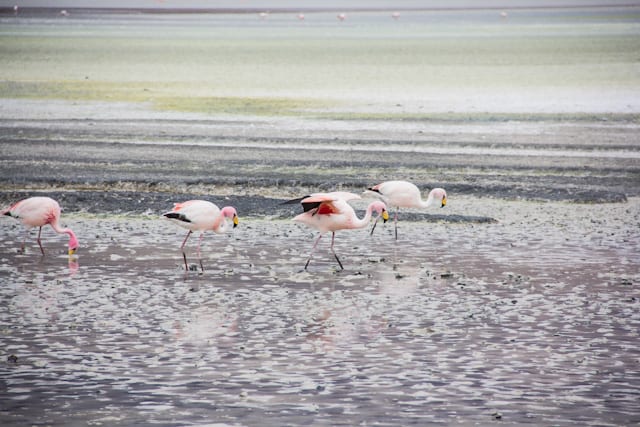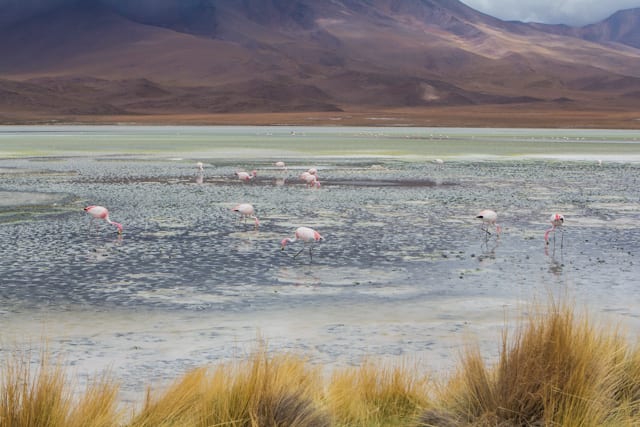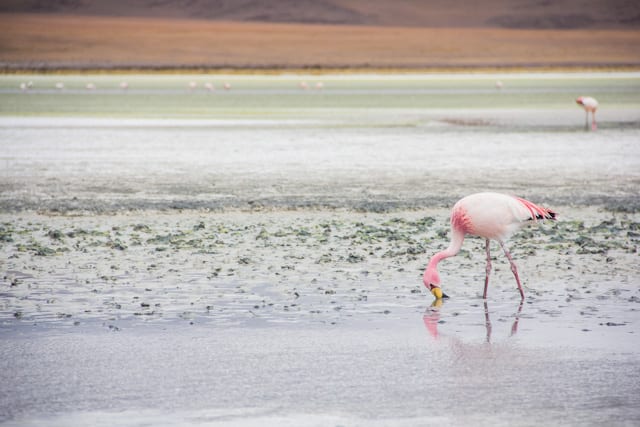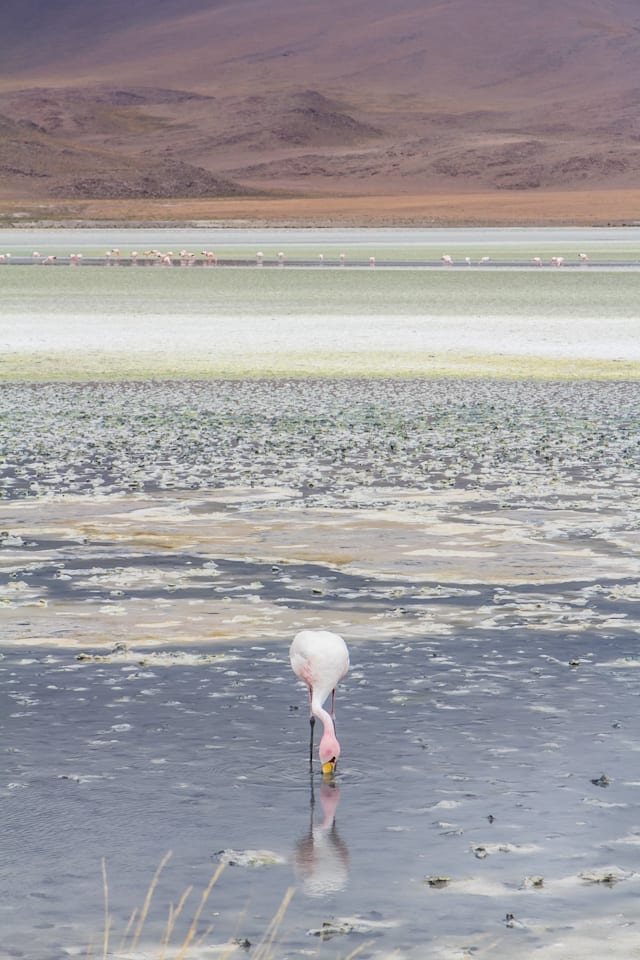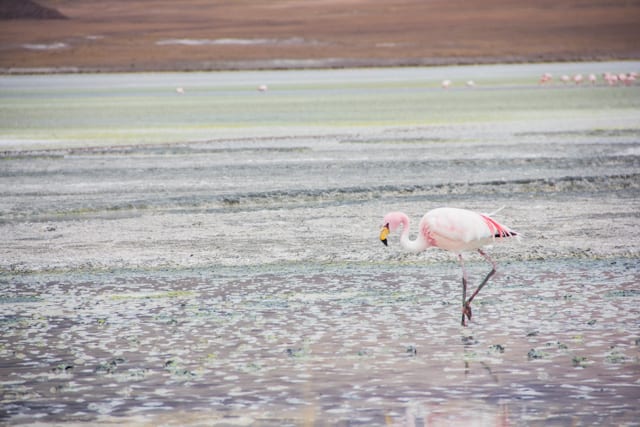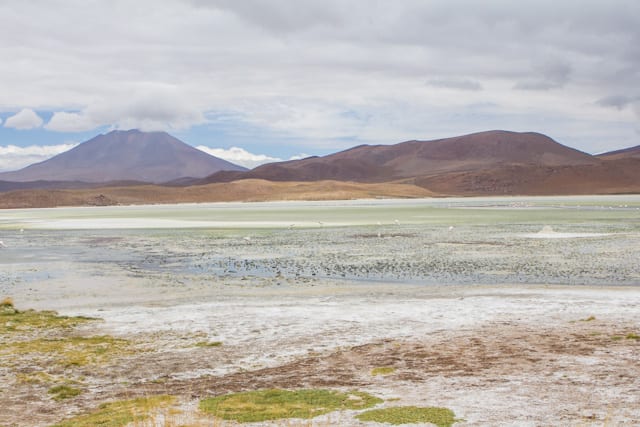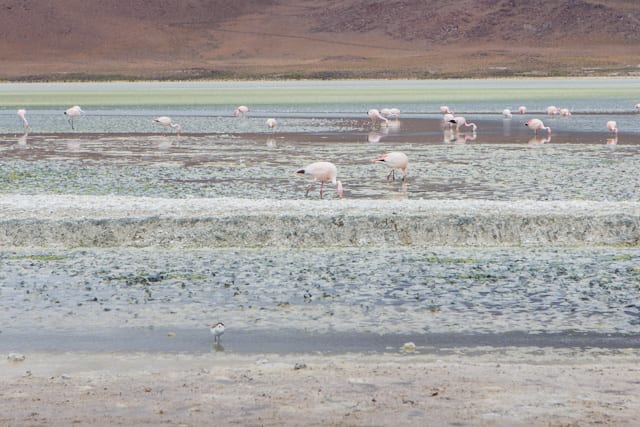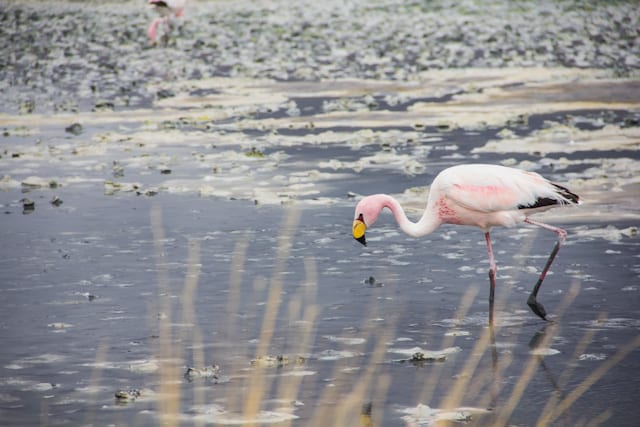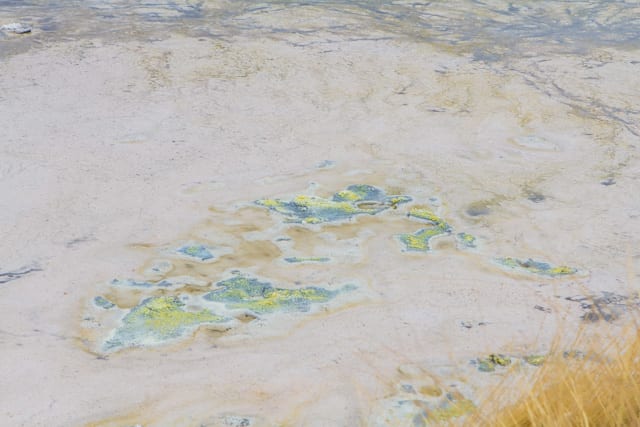 These incredible fossilised sandunes are where we stopped for a beautifully scenic lunch.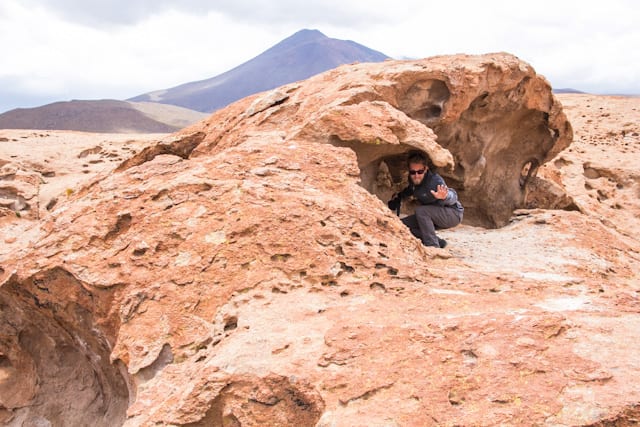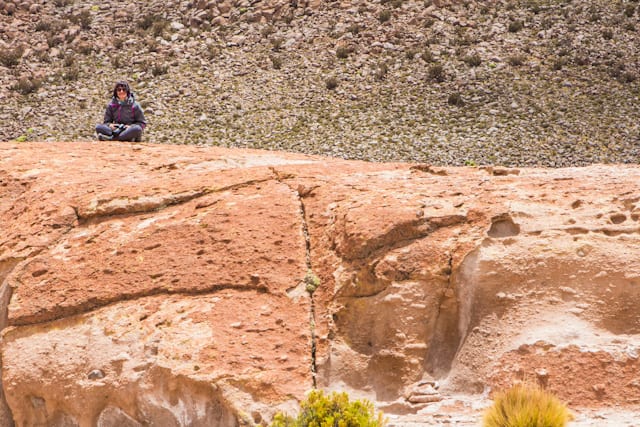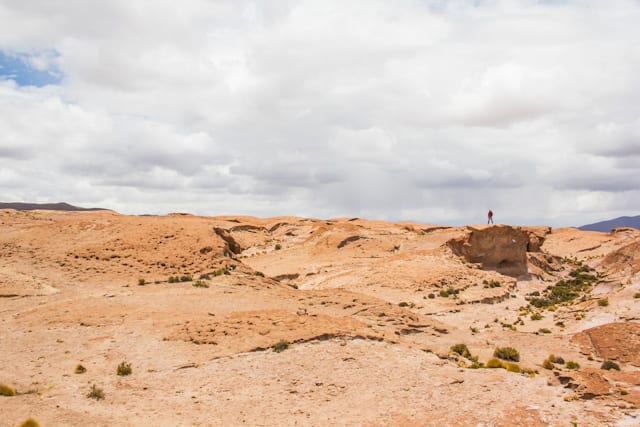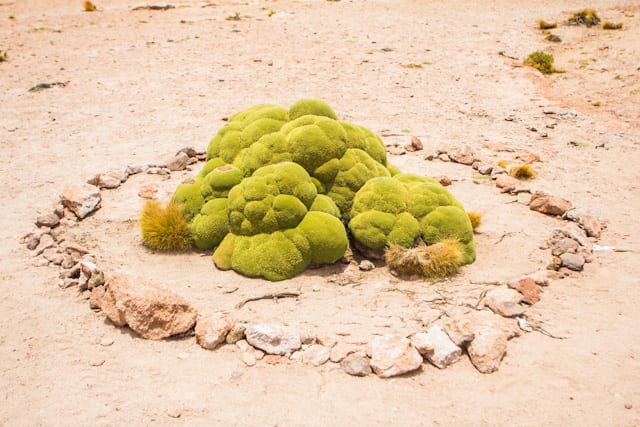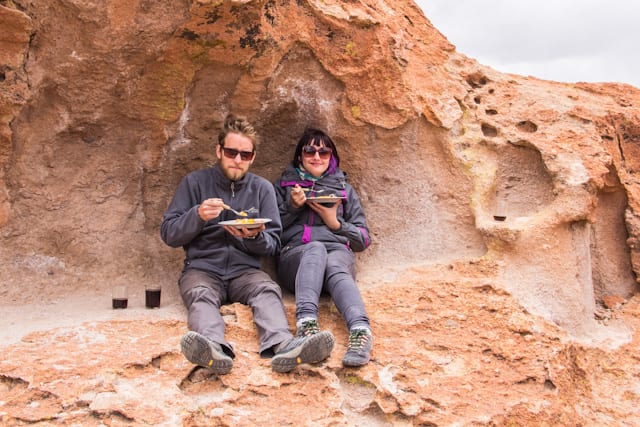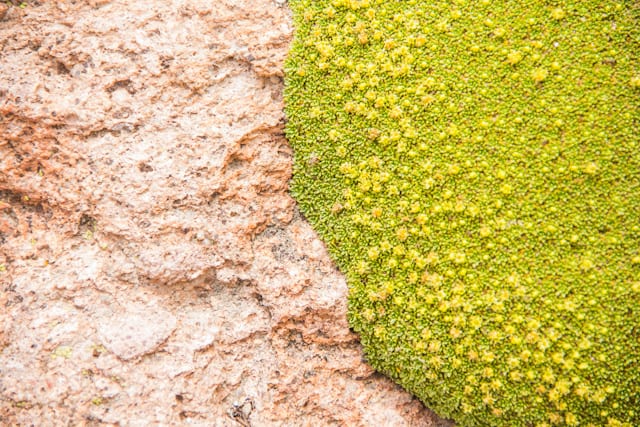 As this entire desert was once under water, despite now being at over 4000m above sea level, there were incredible fields of fossilised coral.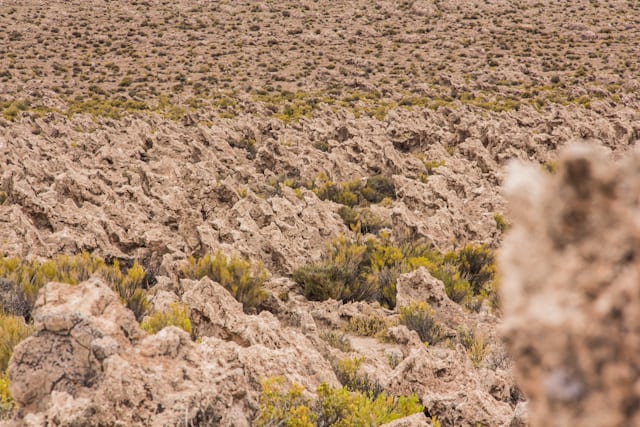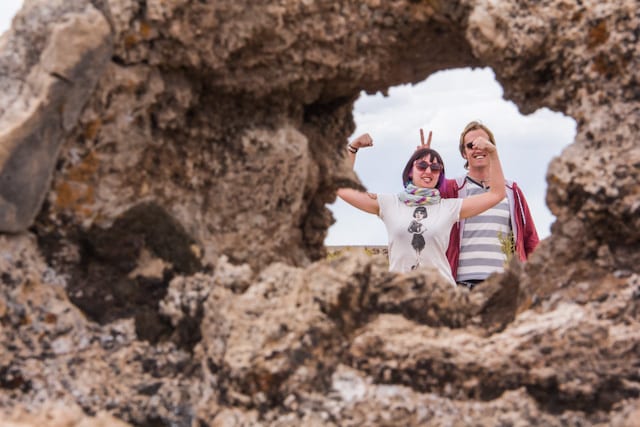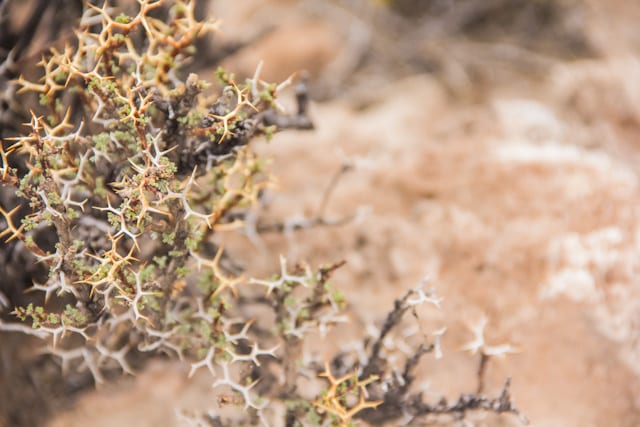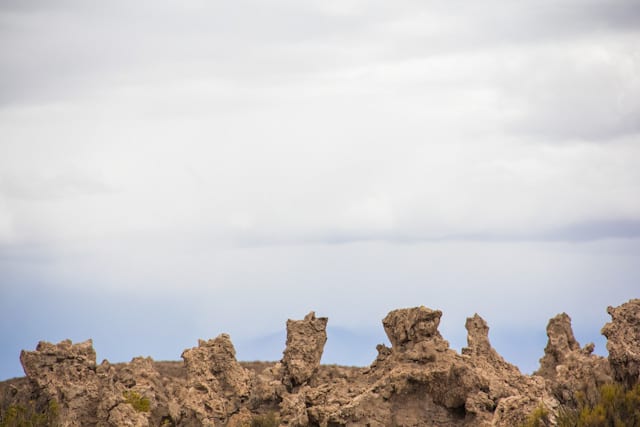 This was one of many little mini tornados we saw as we drove through the open plains to get to our final destination. We hadnt expected to see anything like this, and to be honest, while this picture does not do them justice, they were an unexpected highlight for us.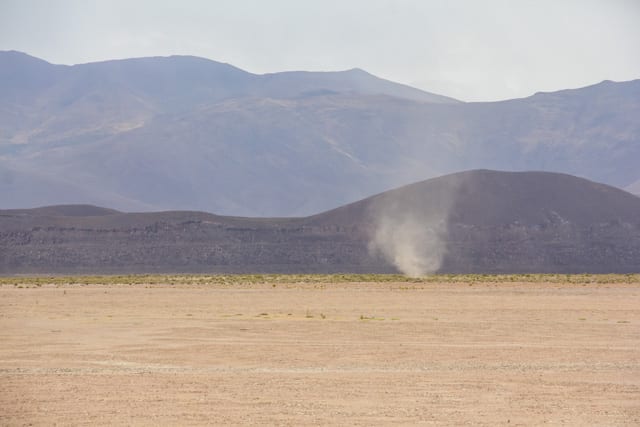 These bizarre looking mirages were our first glimpse of the Salar. As the Salar is pancake flat and snow white from the metres deep salt reserves, it creates some seriously bizarre optical illusions. But more on that in the day 4 pics.
Overlooking the edge of the Salar were the Cueva del Diablo (Devil's Cave) and Cueva Galaxia (Galaxy Cave). These rock formations were created when the Thunupa volcano came into contact with the water (the salt flats were still a sea) about 225 million years ago. They actually resemble bones dangling from the walls and ceiling, forming strange figures. Cueva del Diablo is a sacred burial ground surrounded by many myths. It has a chullpar, or cemetery, with human remains.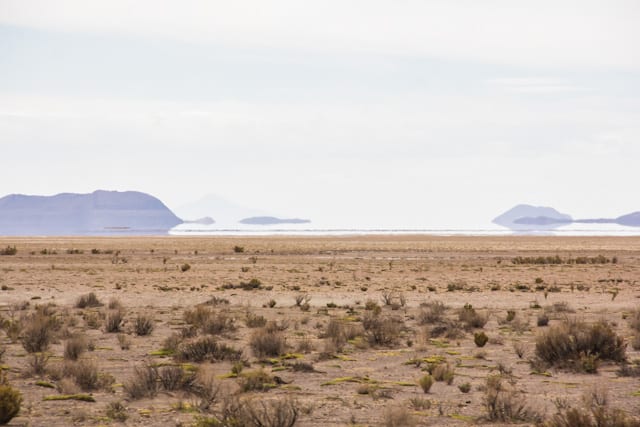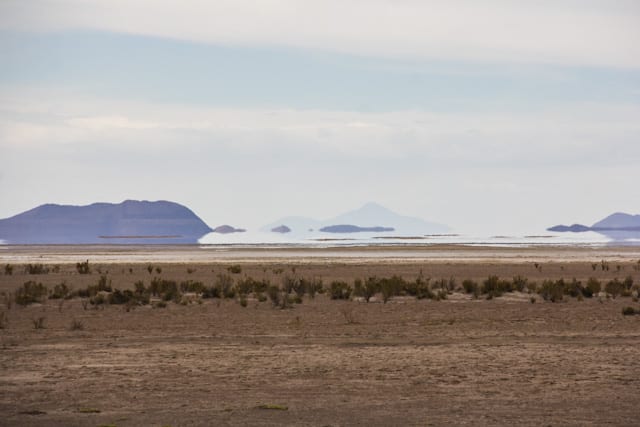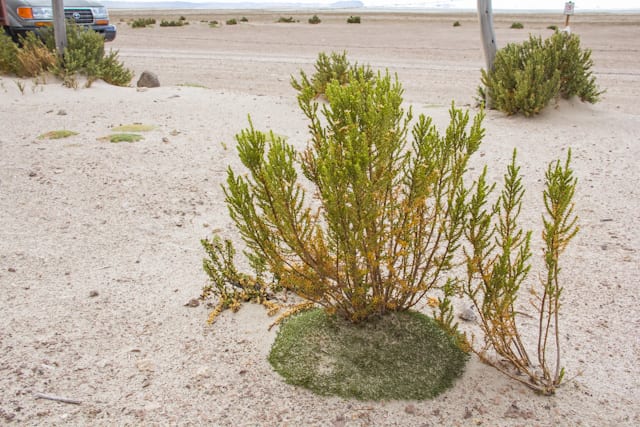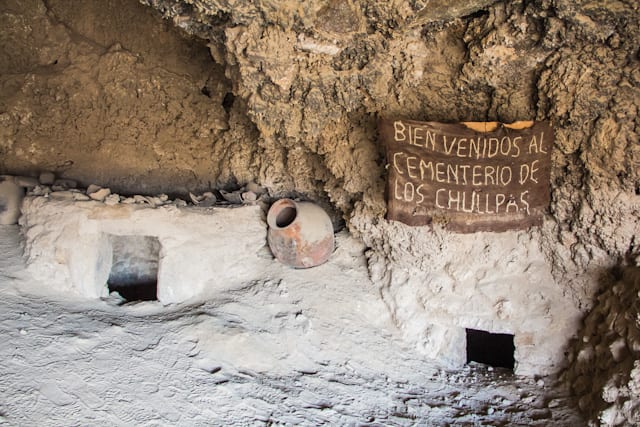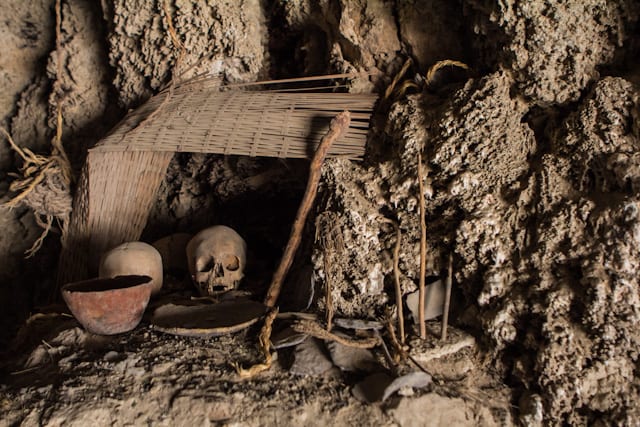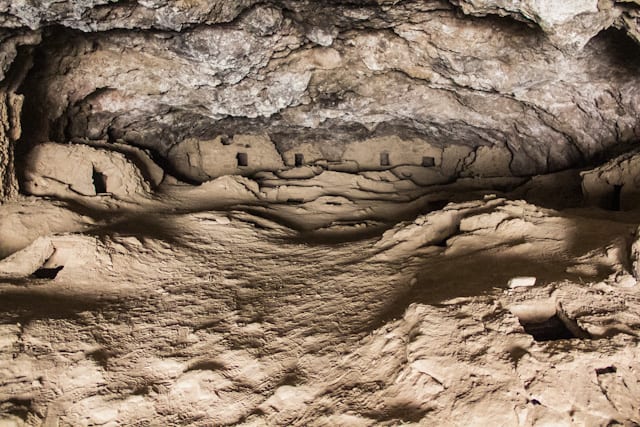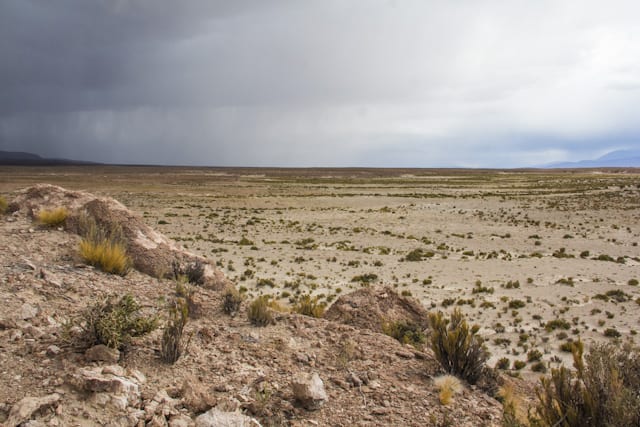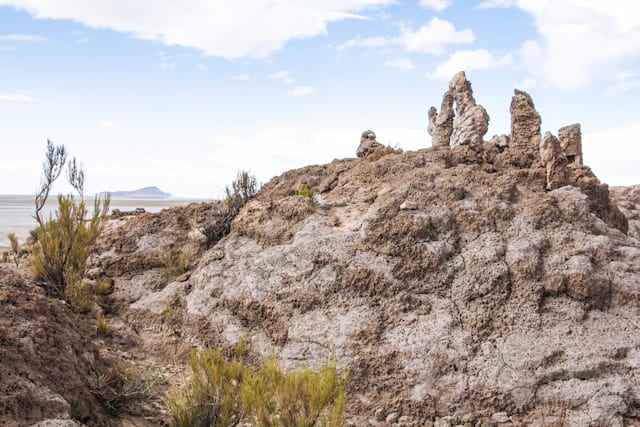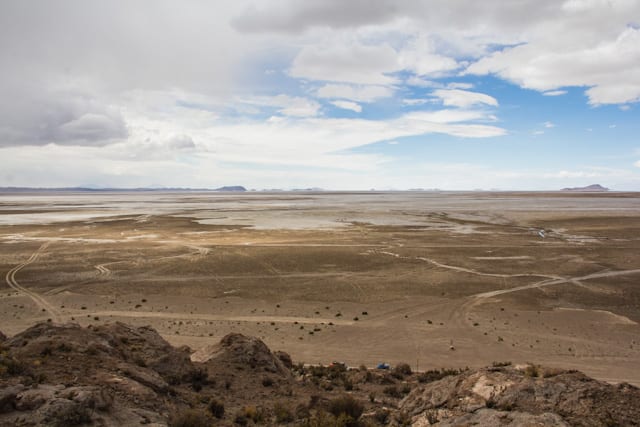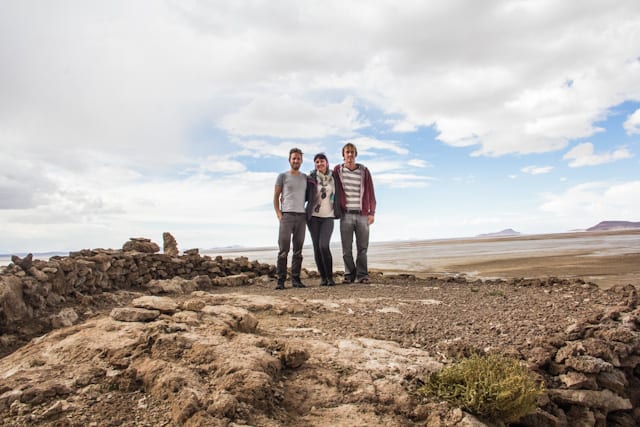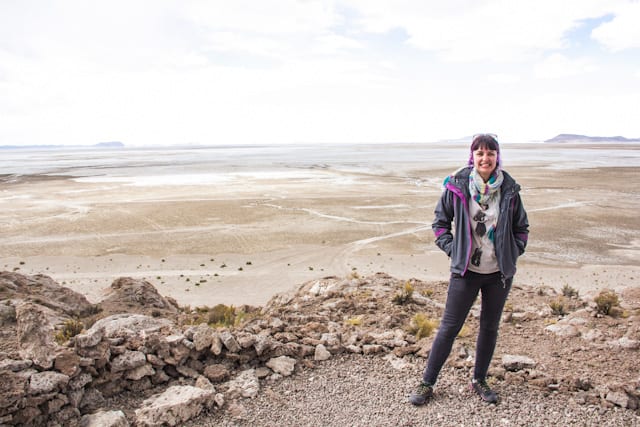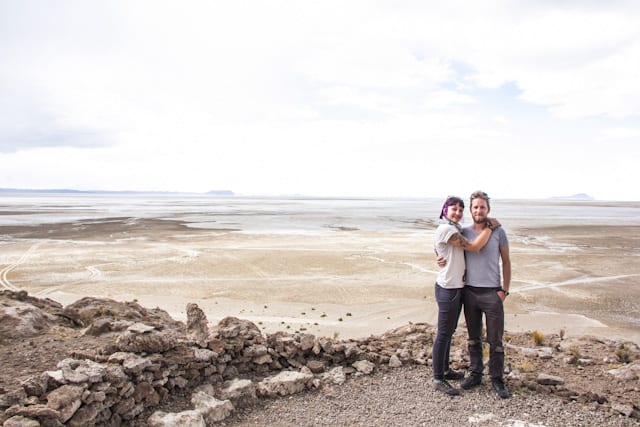 This rain storm threatened and followed us around most of the afternoon. While normally rain is no big deal, a big storm can flood the Salar preventing any trips out onto it, which we did NOT want to happen to us the following day!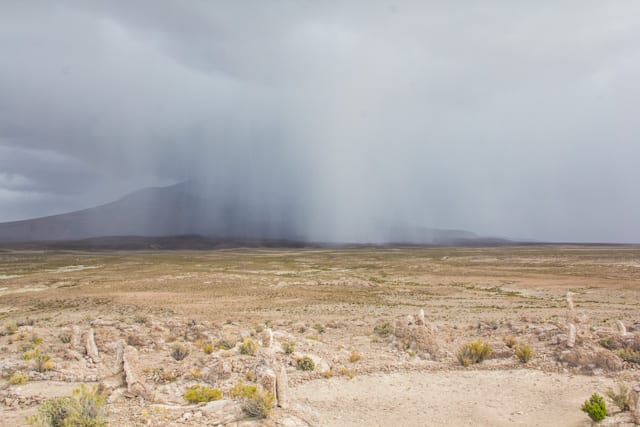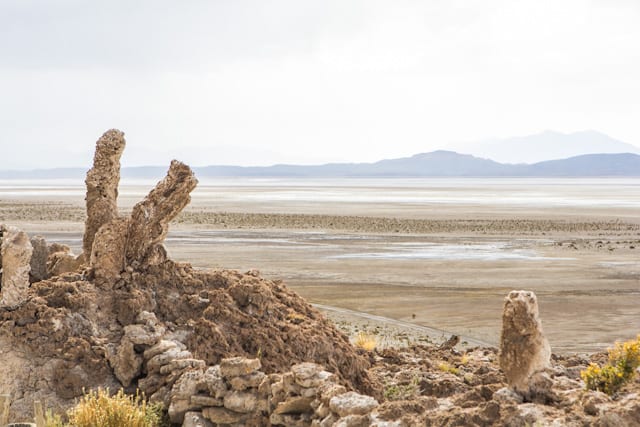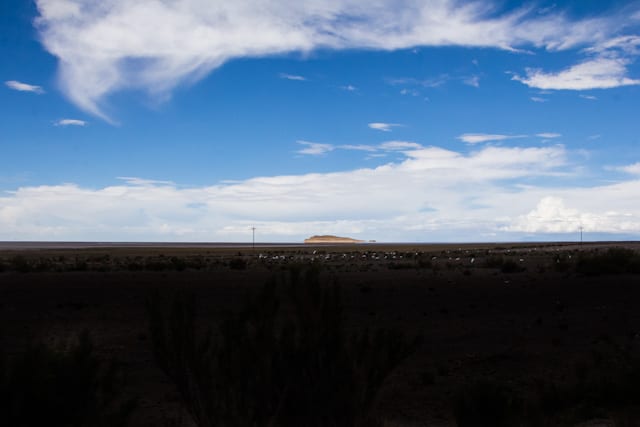 On our last night we stayed in a hostal constructed entirely of salt at the very edge of the Salar. Tables, chairs, bed bases you name it!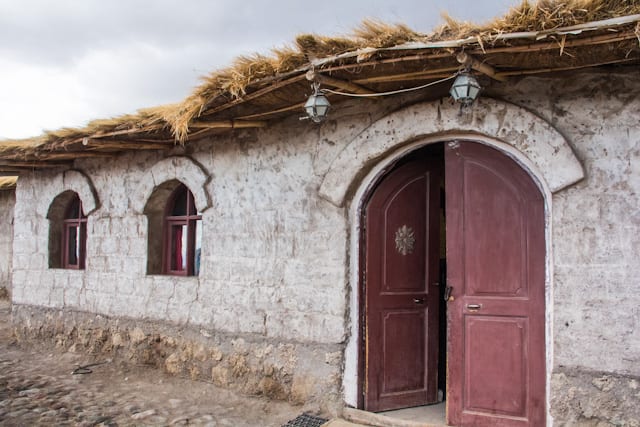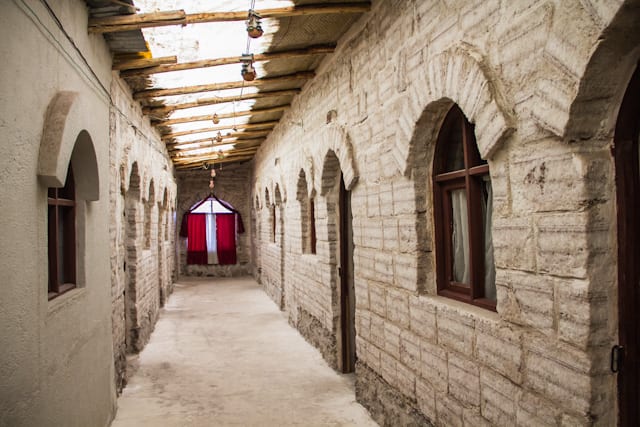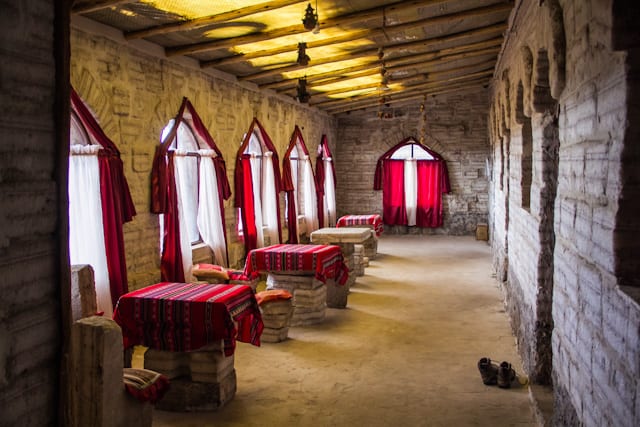 Yup, it was salty…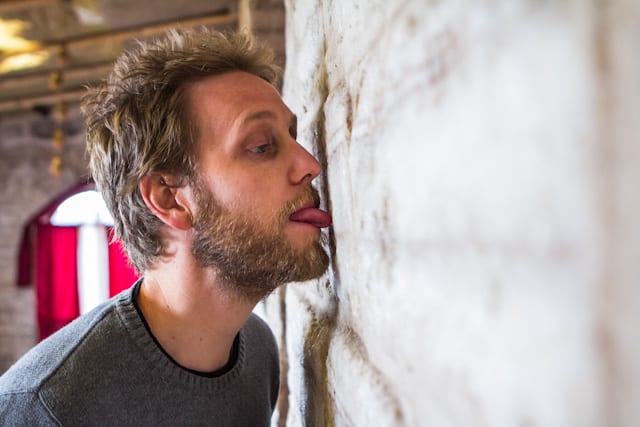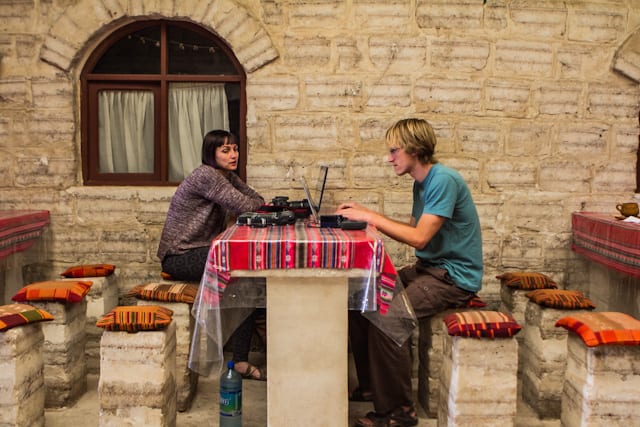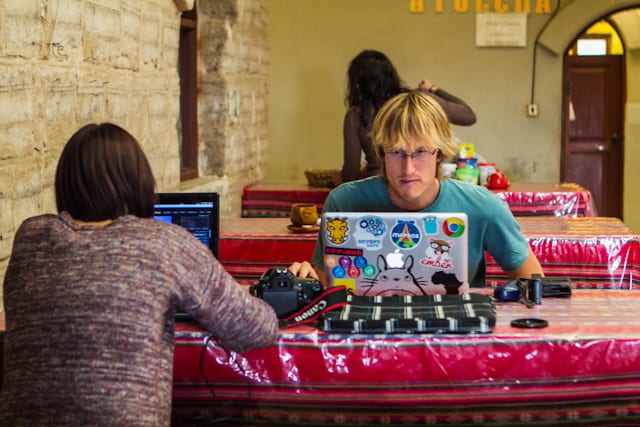 This was maybe the most amazing soup we have ever had! And yes, it did have chips floating in it ;) We were really impressed with the food on our trip. Our cook Ira (who is mad. Like, properly mad) whipped up some really awesome vegetarian food often in some really difficult situations. The food we ate on this trip was probably the best we had in Bolivia!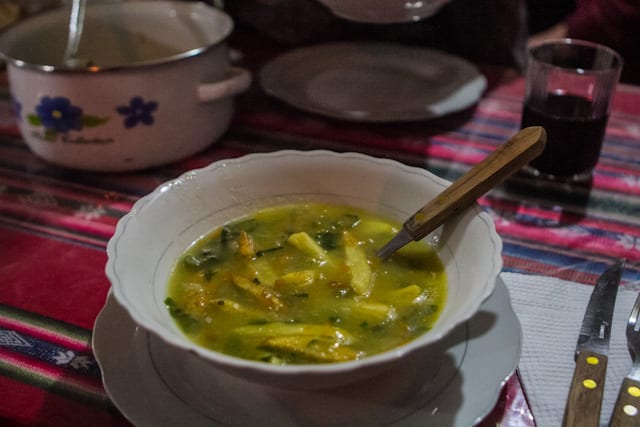 Day Four
We were woken and bundled into our car by 4.30 am and the reason for this was to see the spectacular sunrise over the Salar. There had been a bit of rain over night but not enough to prevent our trip thankfully, but juuuust enough to put a thin layer of water arounfd the edge of the Salar which created some sensational reflections. We saw the moon set and the sun rise at the same time on either side of the Salar!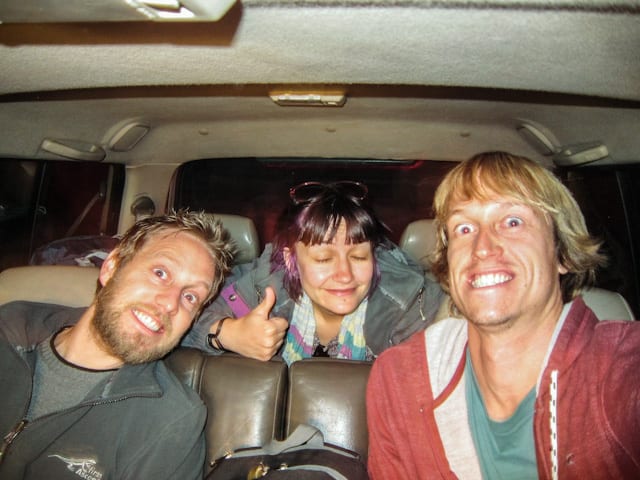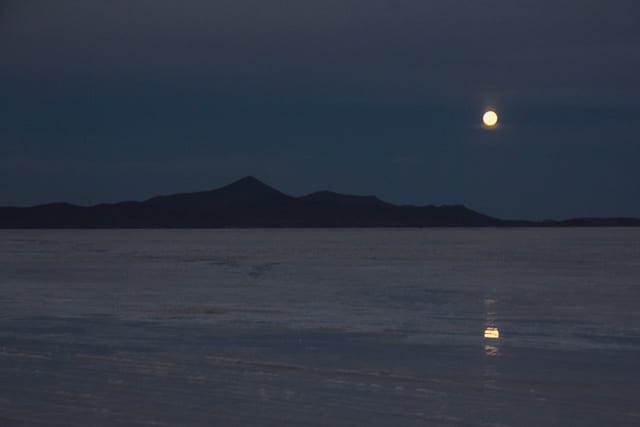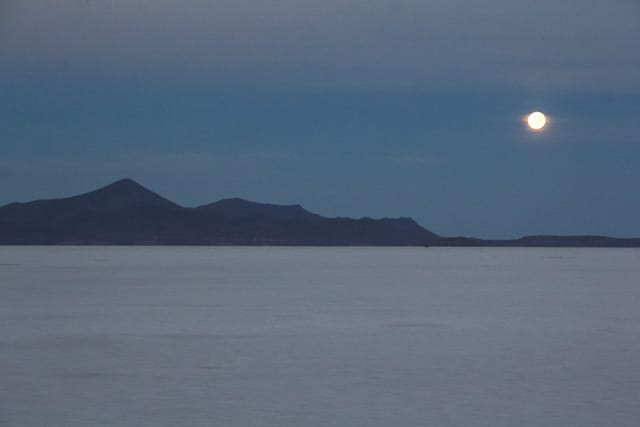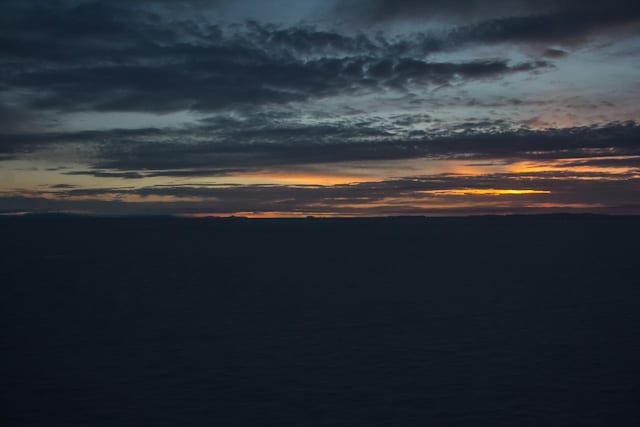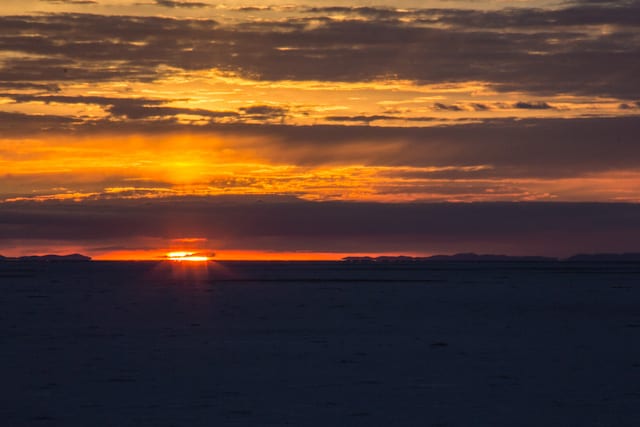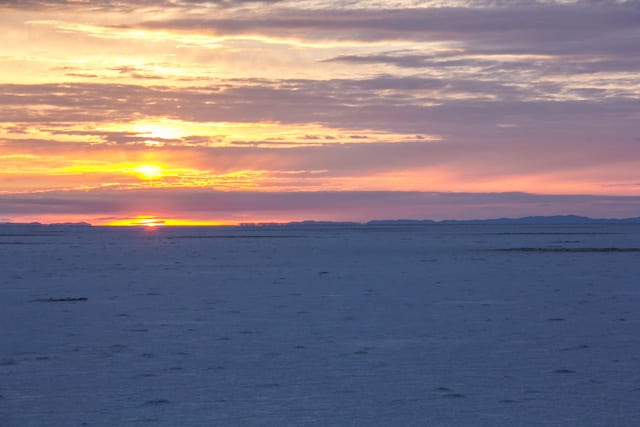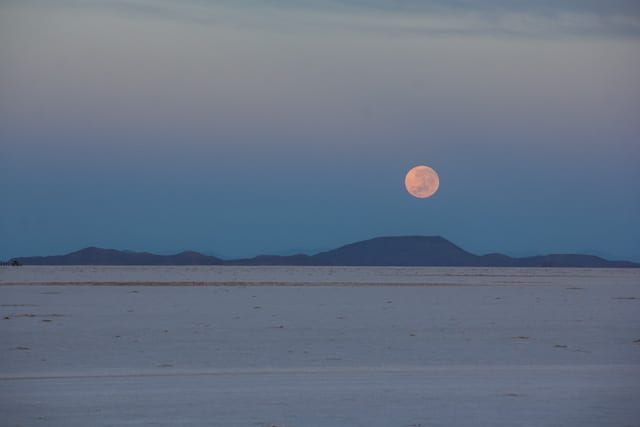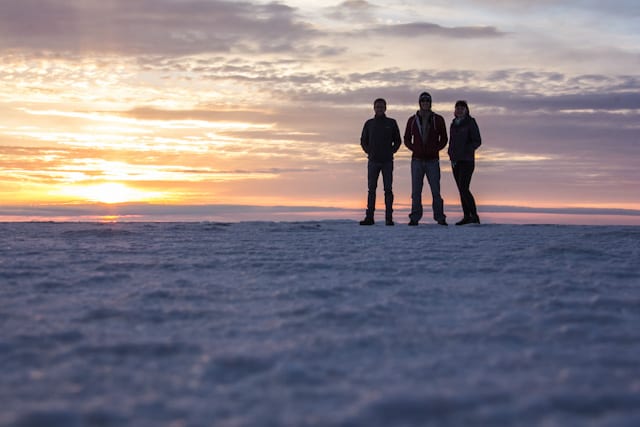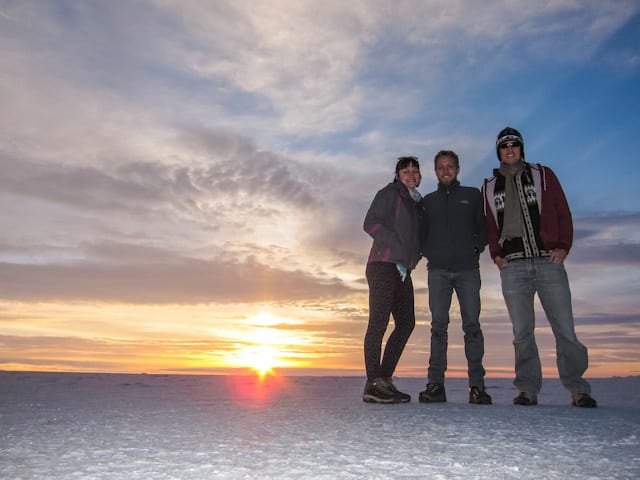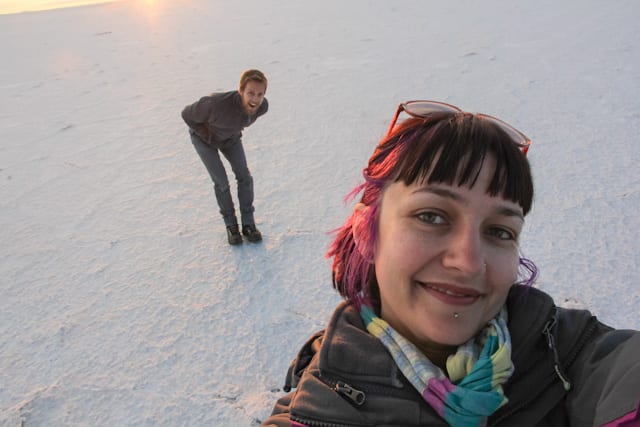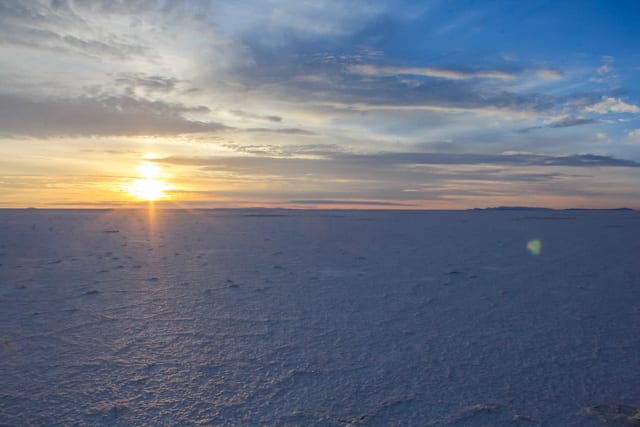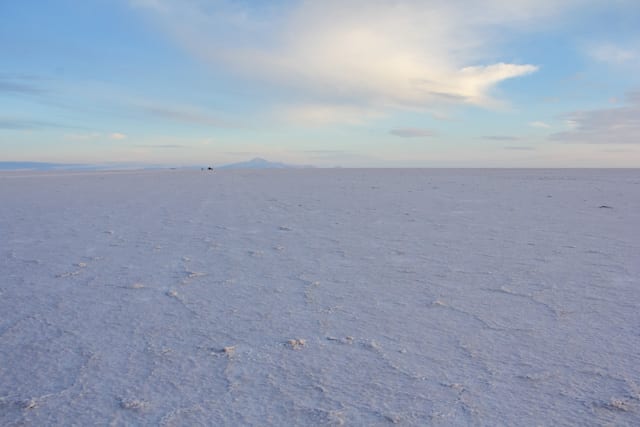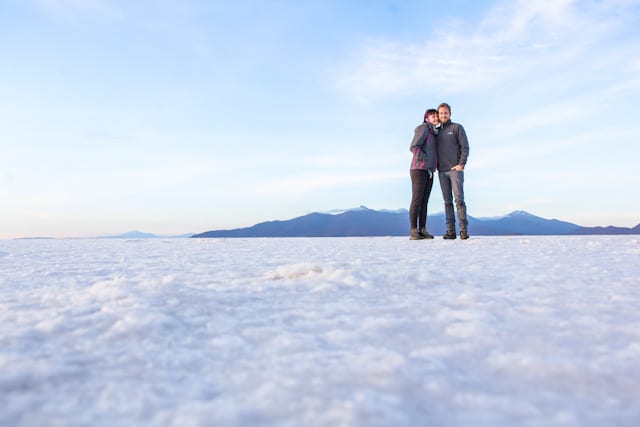 Isla Incahuasi is in the middle of the Salar. Incahuasi has gigantic cacti growing all over it and there are unusual and fragile coral-like structures and deposits that often consist of fossils and algae. The place is the top of the remains of an ancient volcano, which was submerged when the area was part of a giant prehistoric lake, roughly 40,000 years ago. From the top of the island there are amazing views of the surrounding Salar.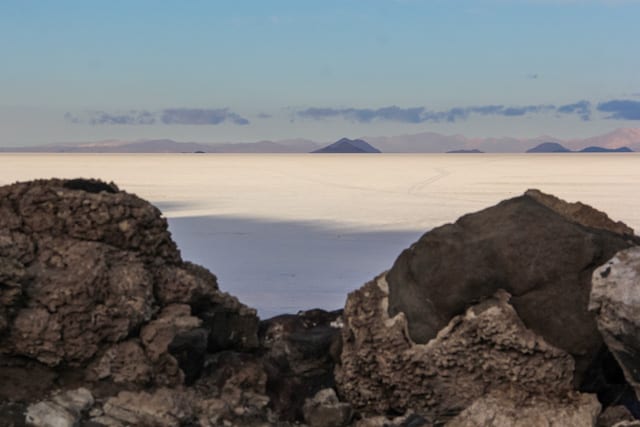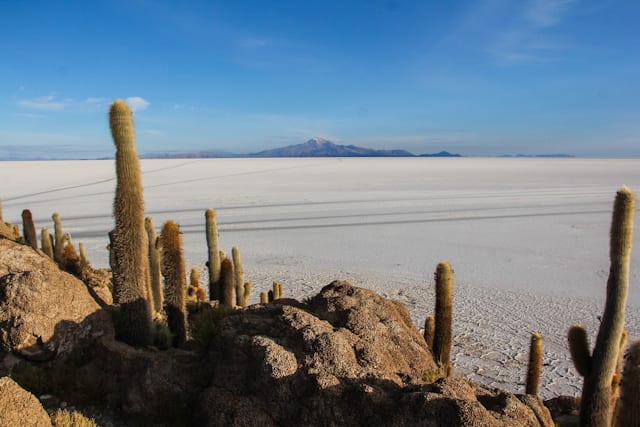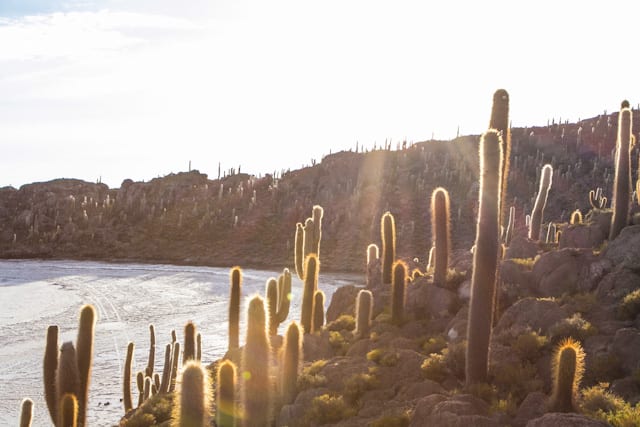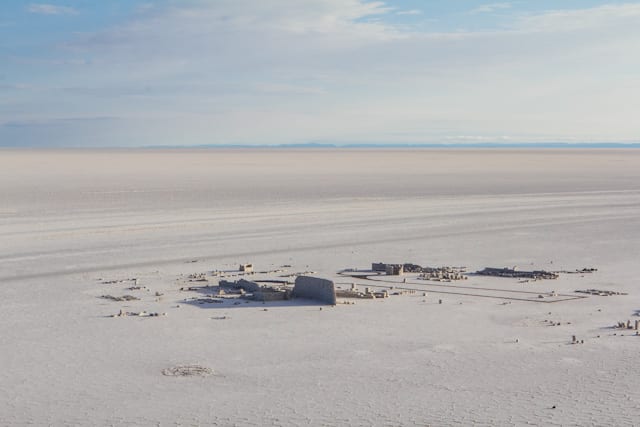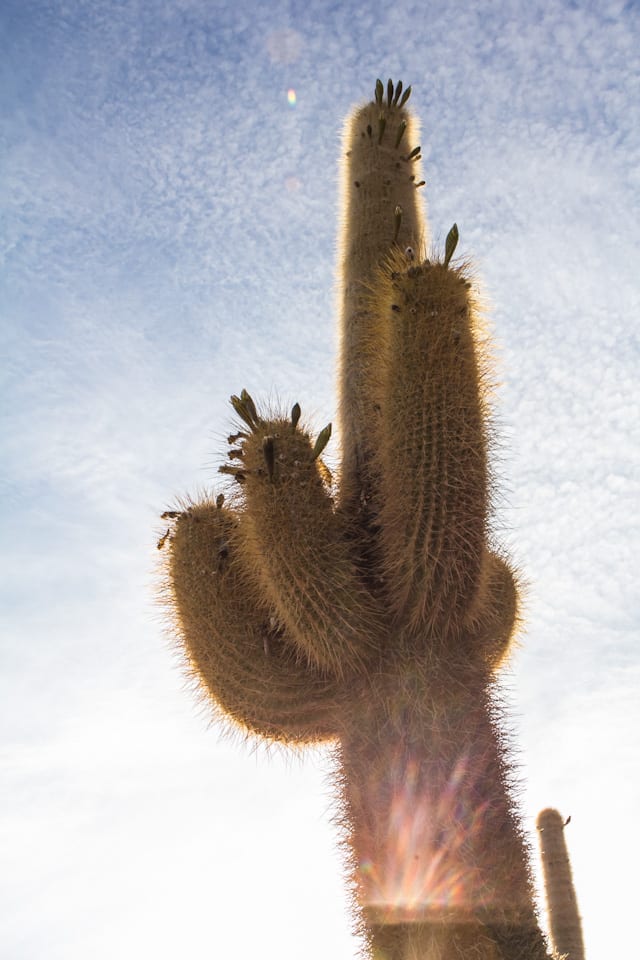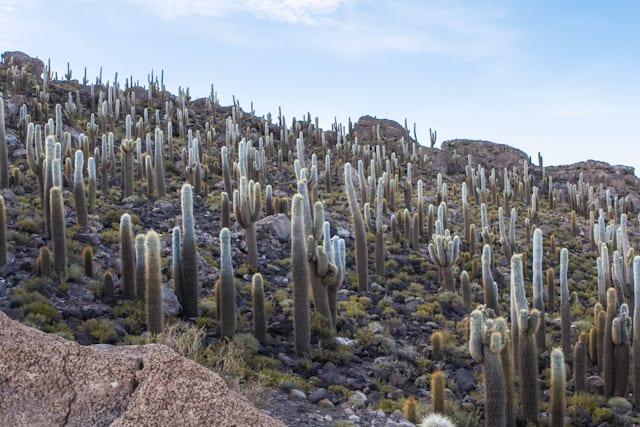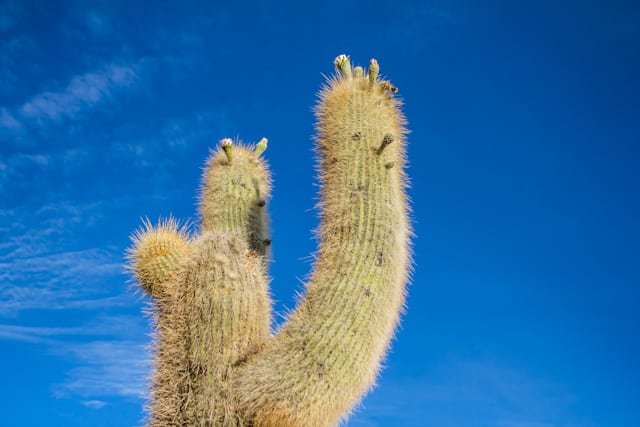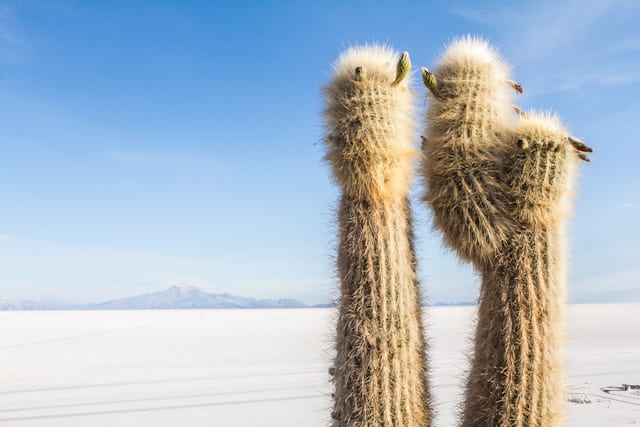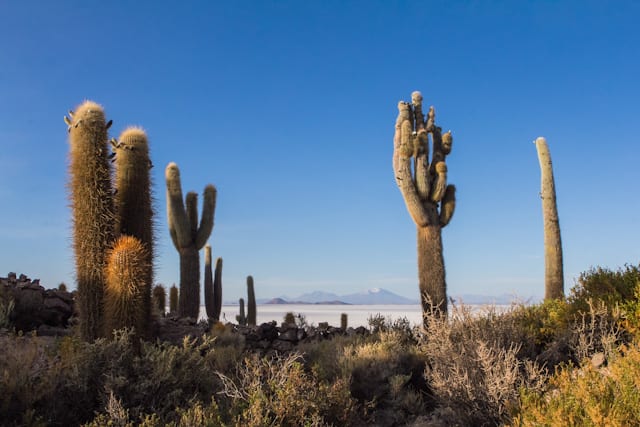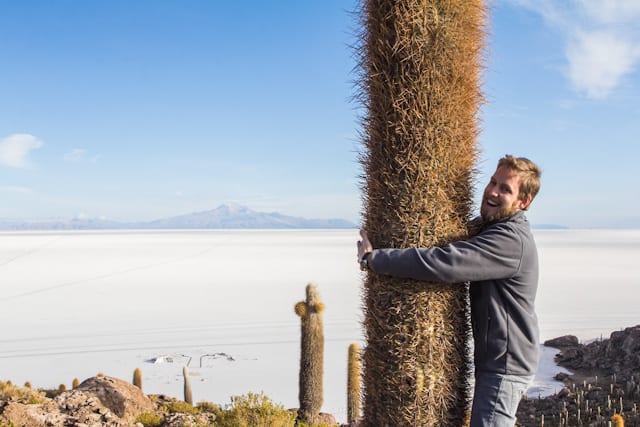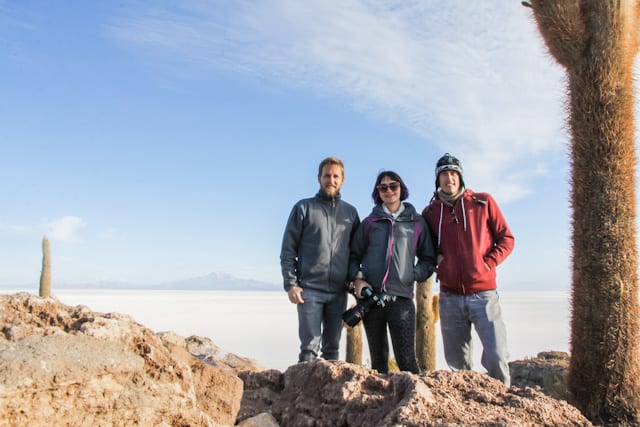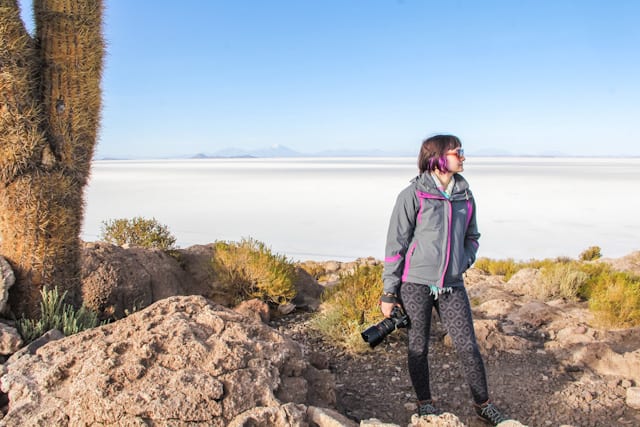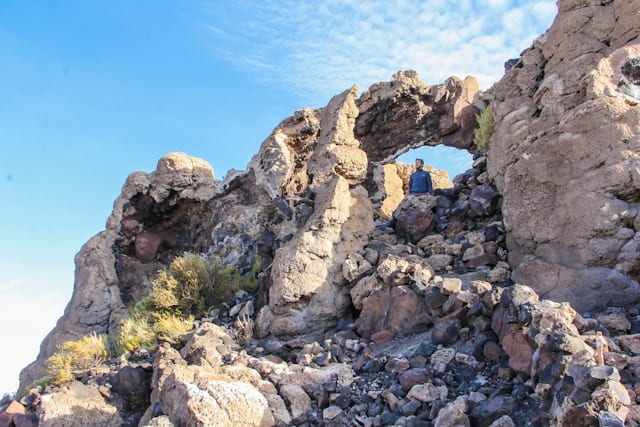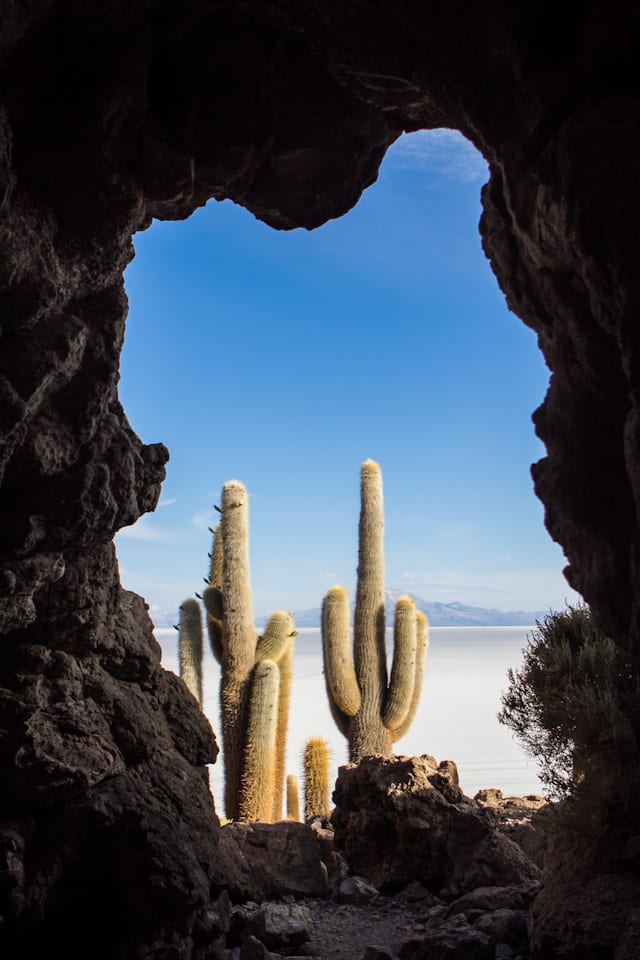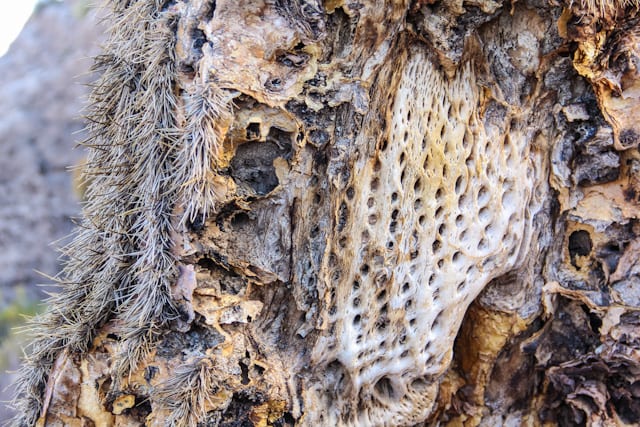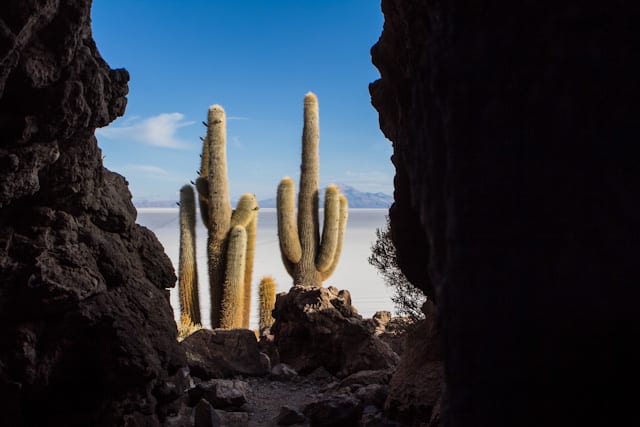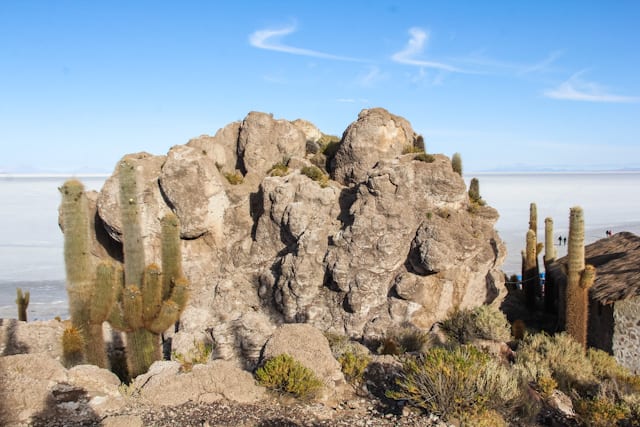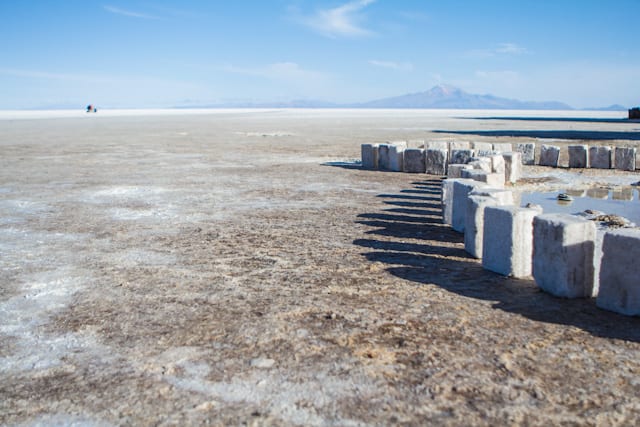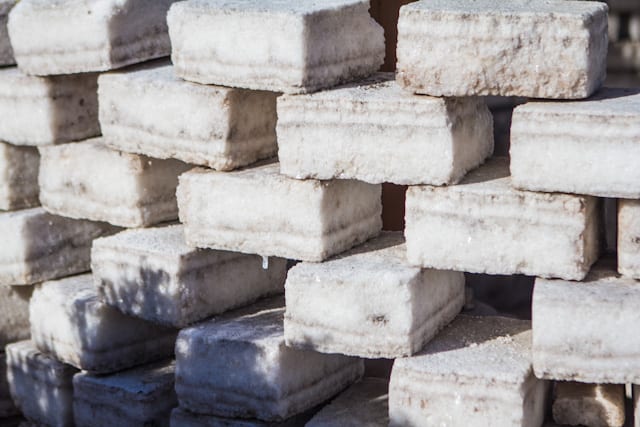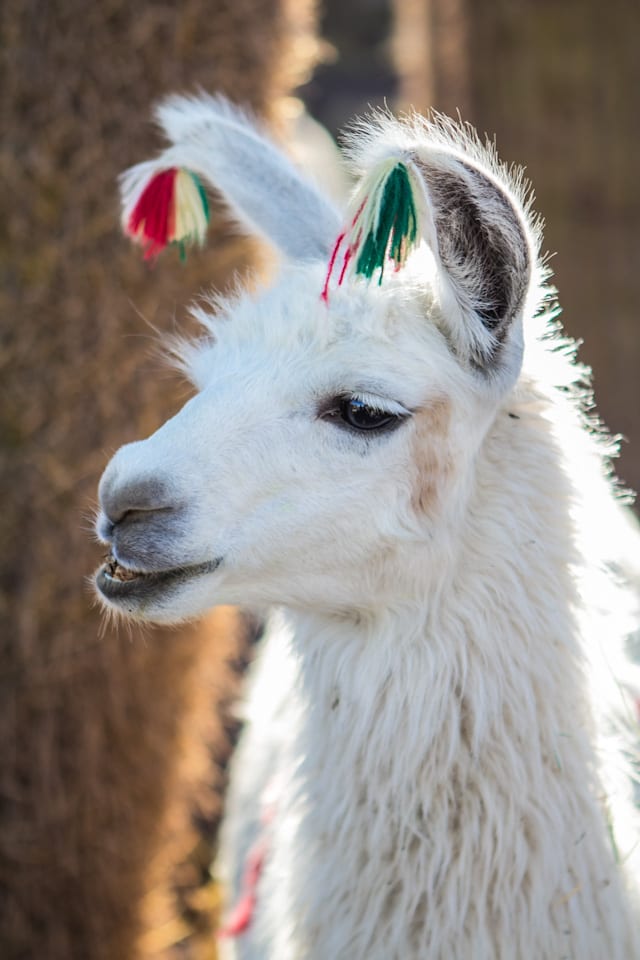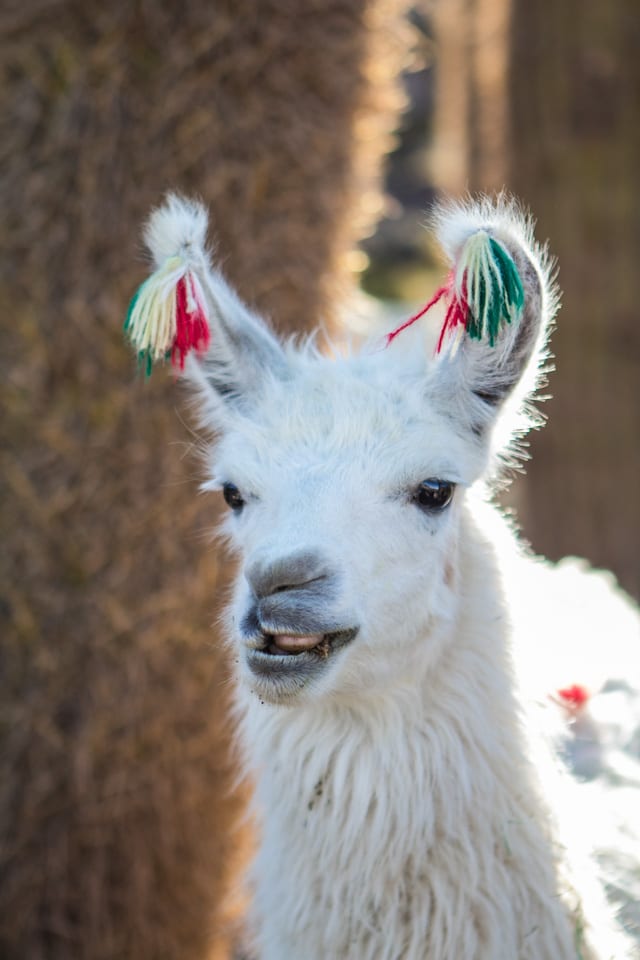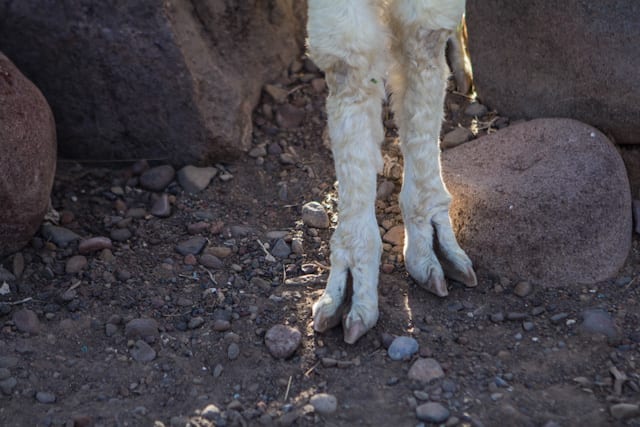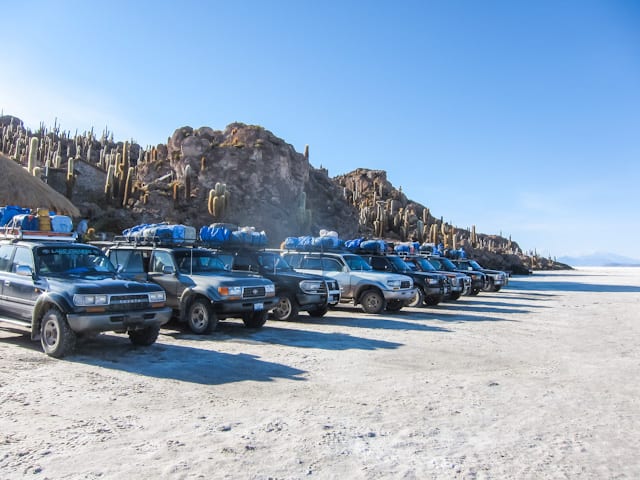 If you google the Salar the thing you are most likely to come across are tourists doing rididulous perspective pictures, which we duly joined in on. (The perspective pics are courtesy of our wonderful friend Maaaaaark (check out his inspiring travel blog: www.tunafish.es).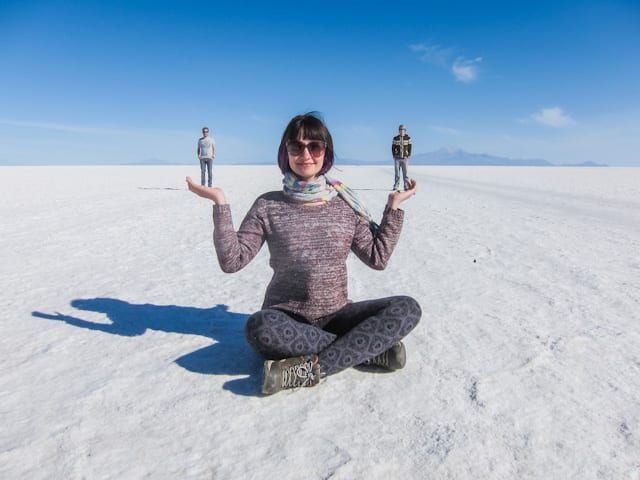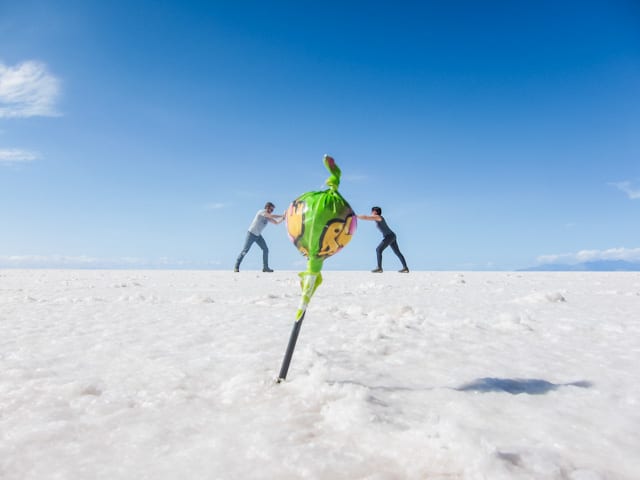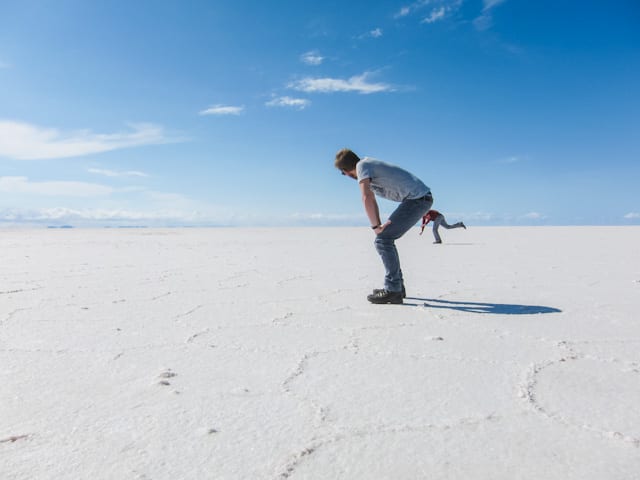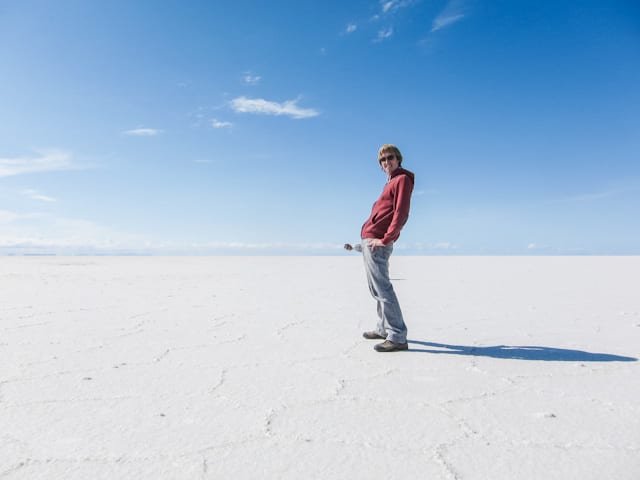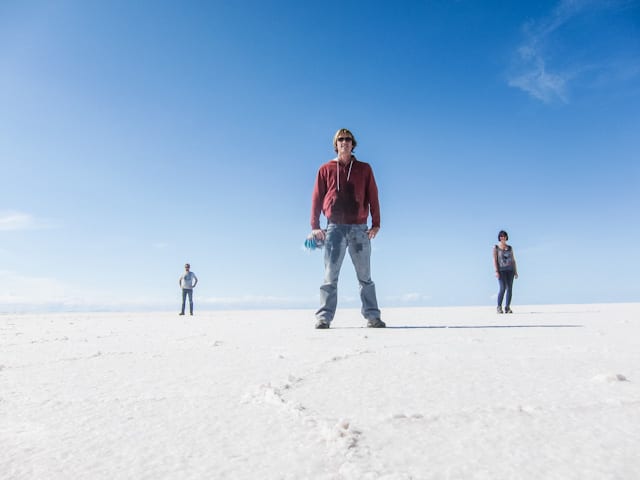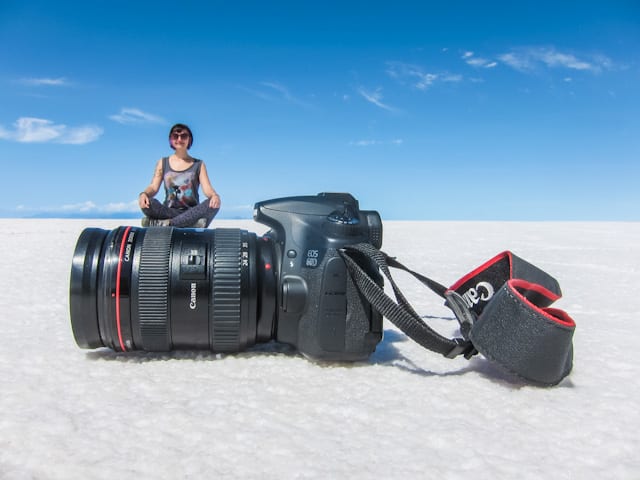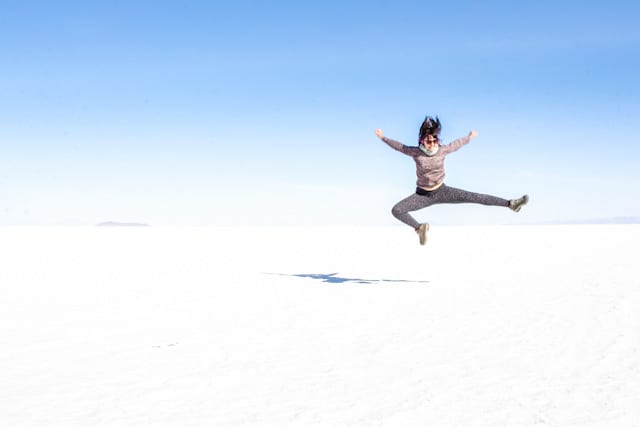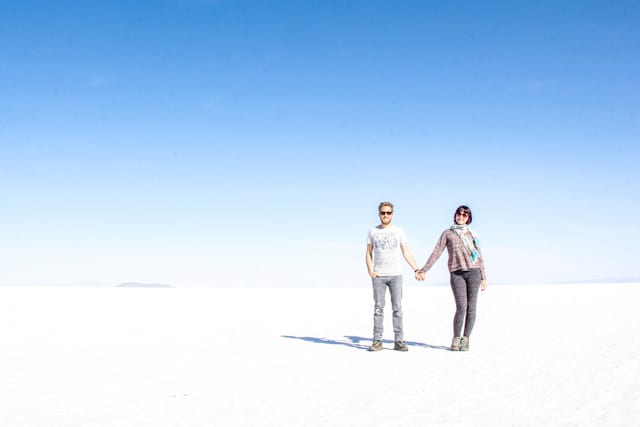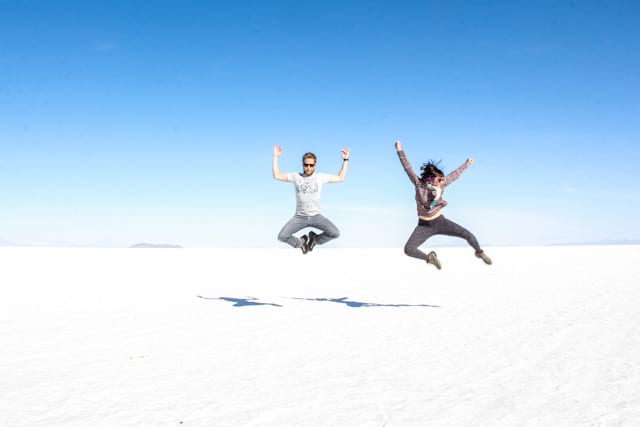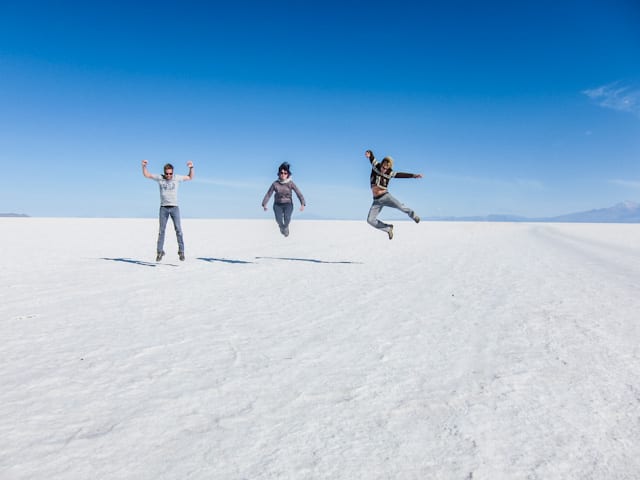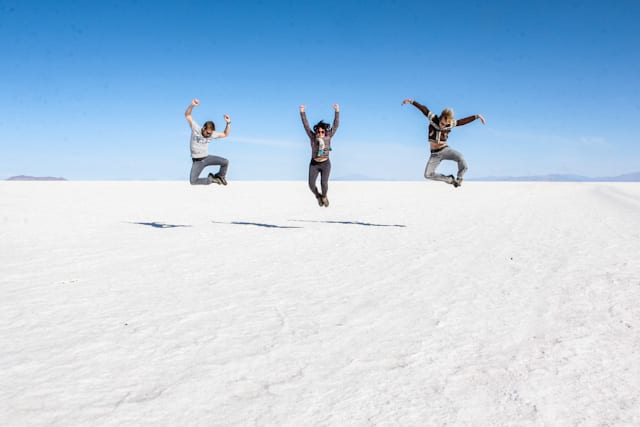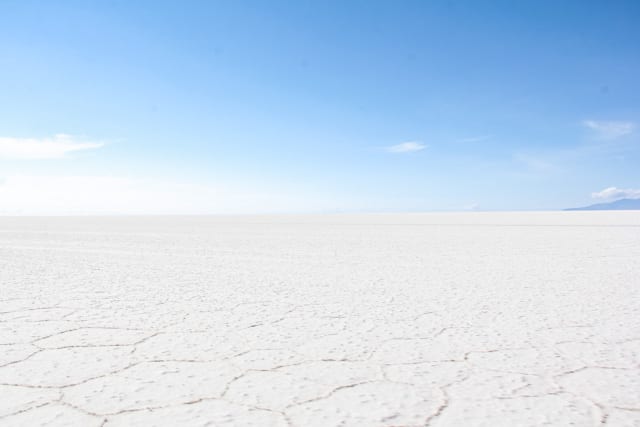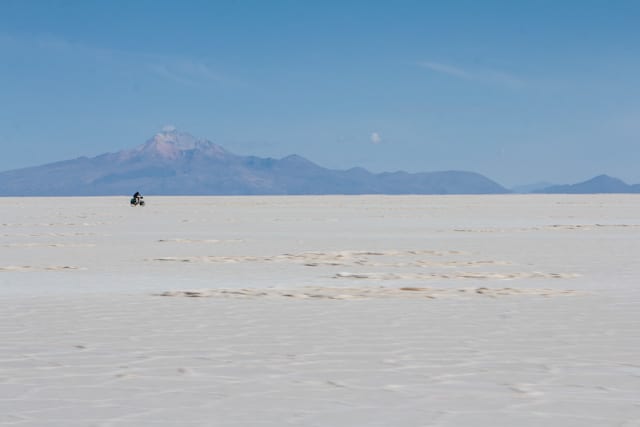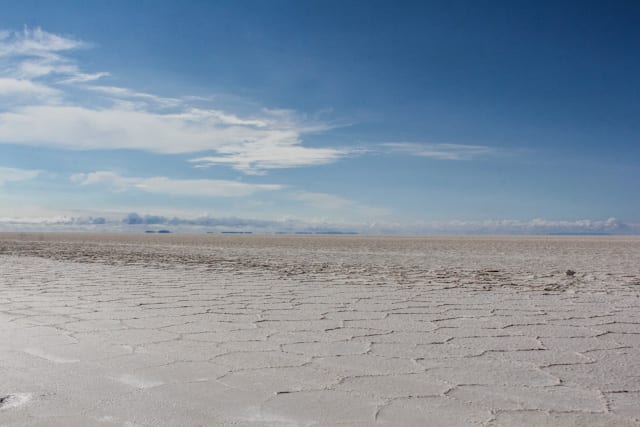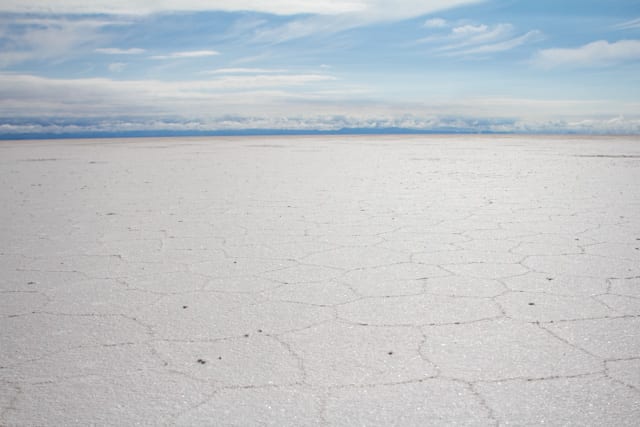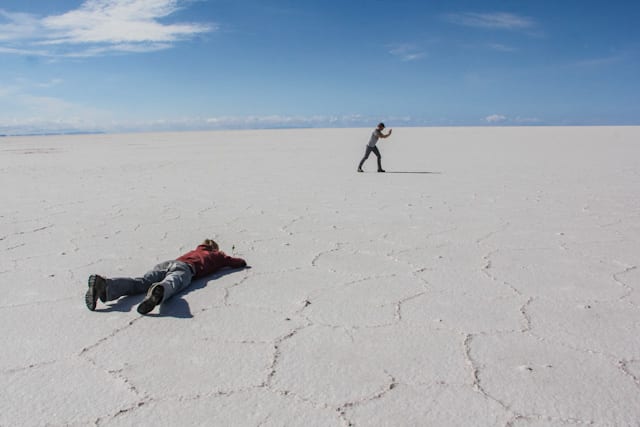 Andy's salt rash.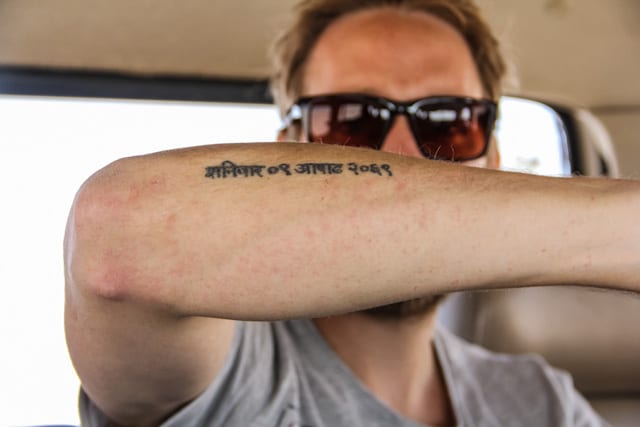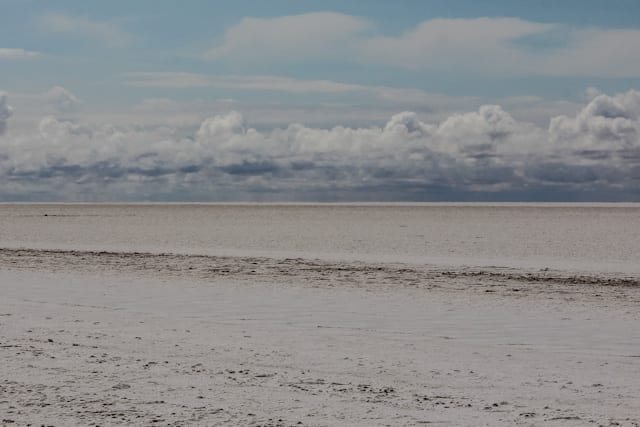 "Eyes" of the Salar are little watery holes scattered around the area that have the most fascinating square pieces of salt, or salt crystals. Ira got her hands salty digging some up for us.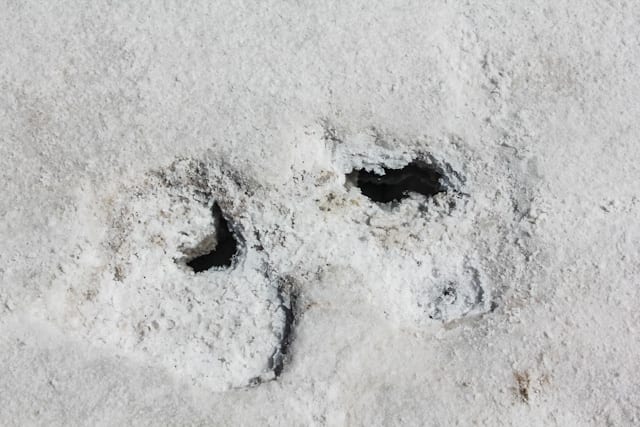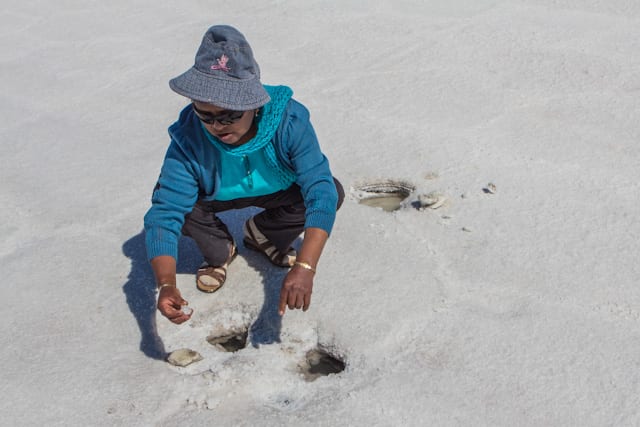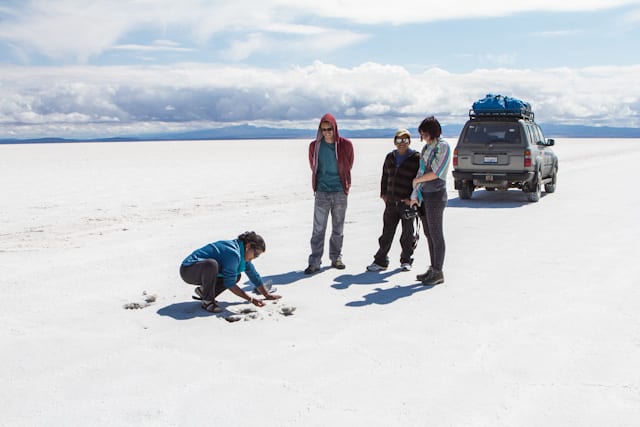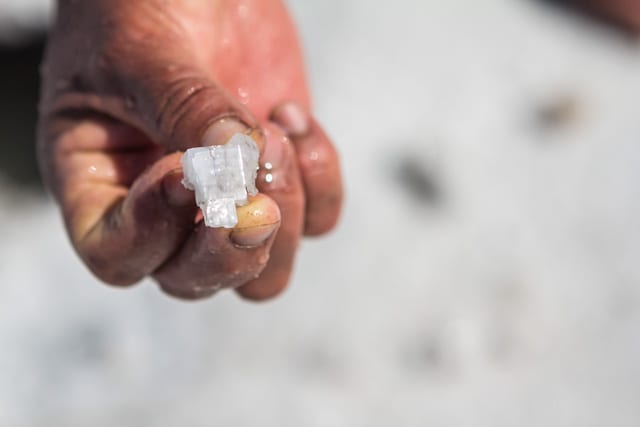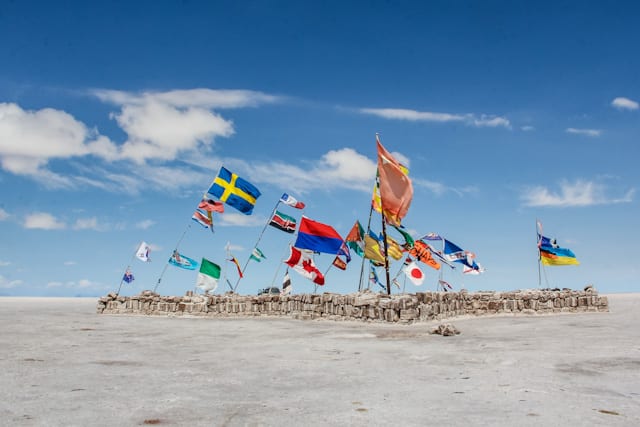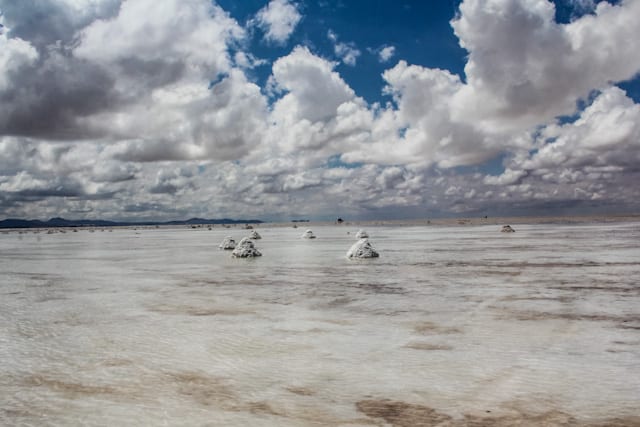 "Harvesting" salt.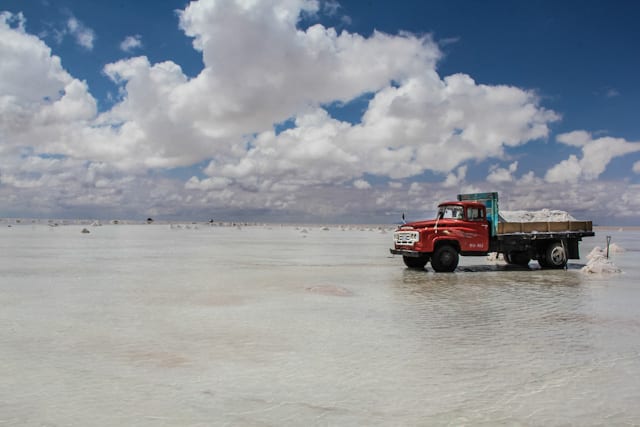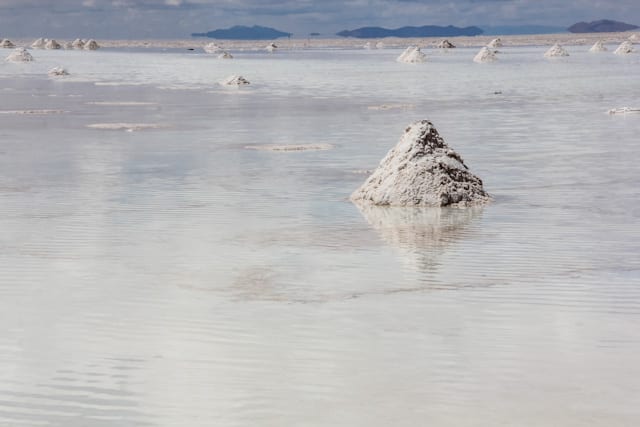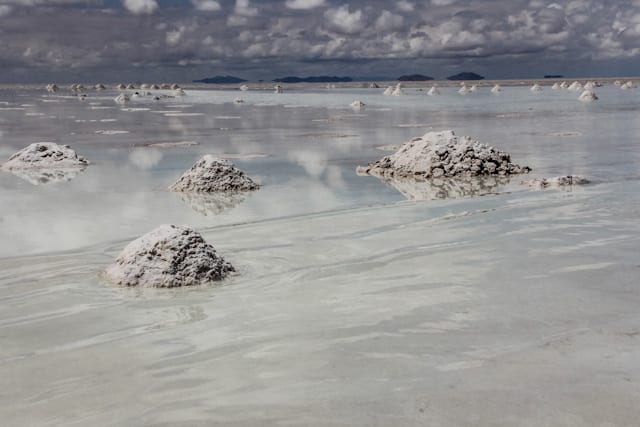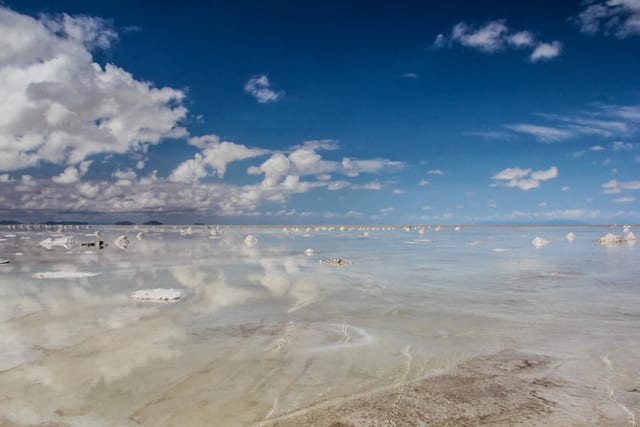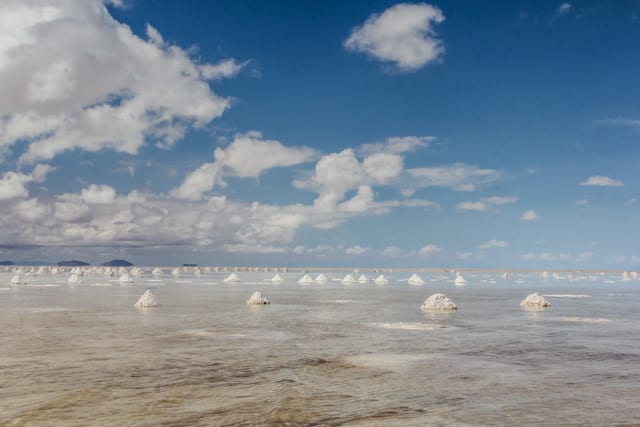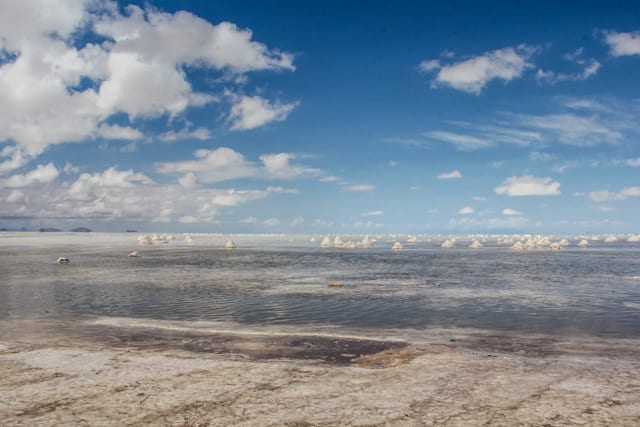 And just like that we were out of the Salar and back in the 'real' world. Our last stop was the train cemetery, which, as its name suggests is a lot of abandoned trains. If you start your trip in Uyuni it is the first site you go to and must be quite a sight, after everything we had seen the last 4 days it didnt seem quite as spectaular but was still quite fun to bugger around on.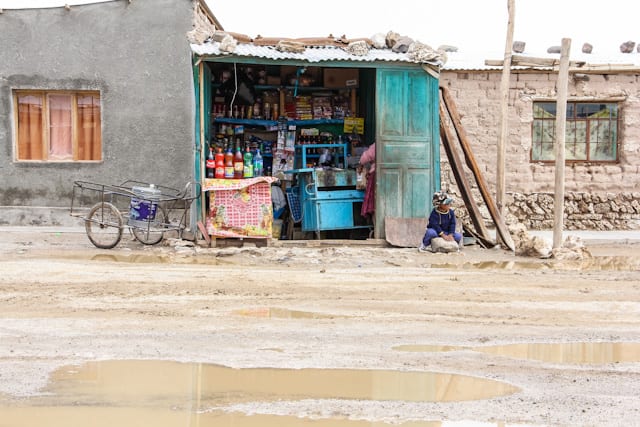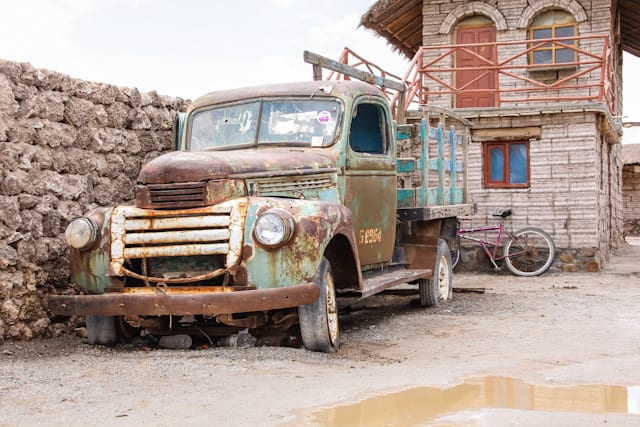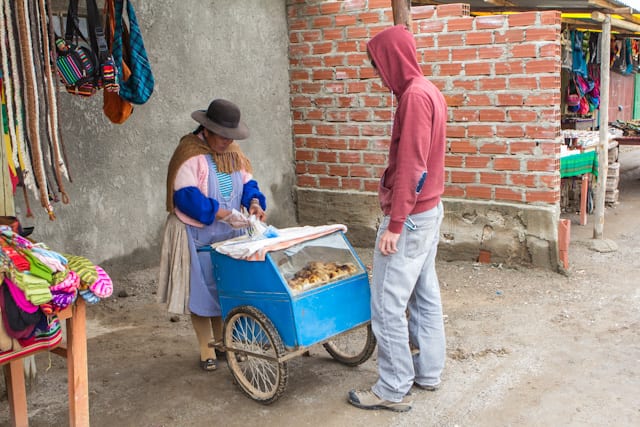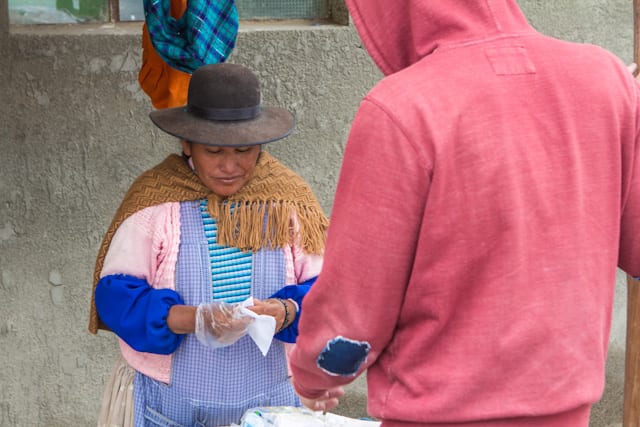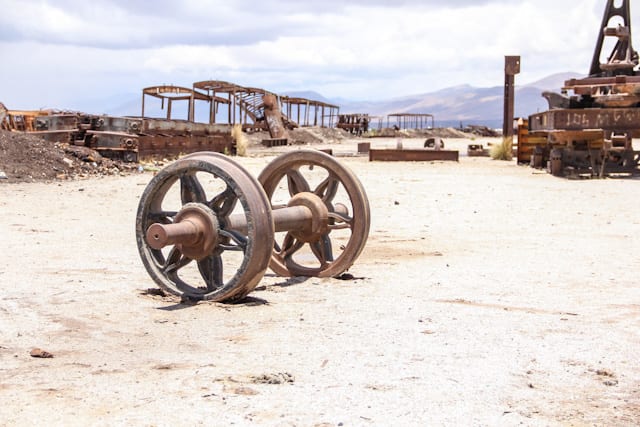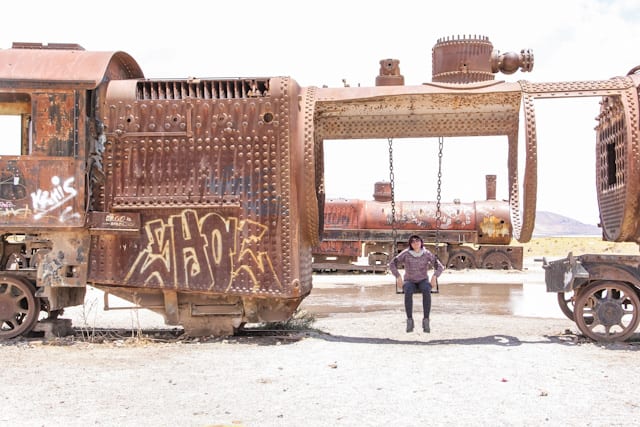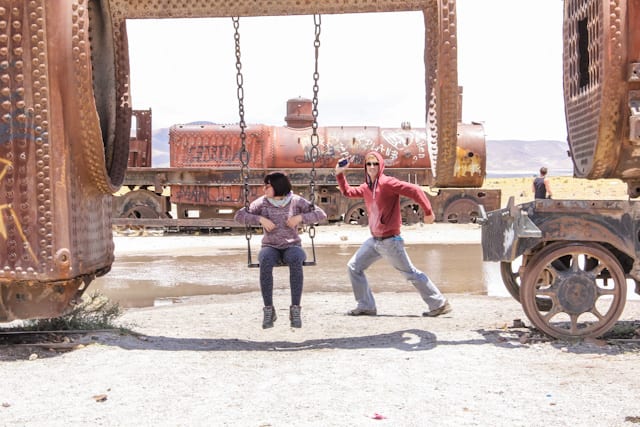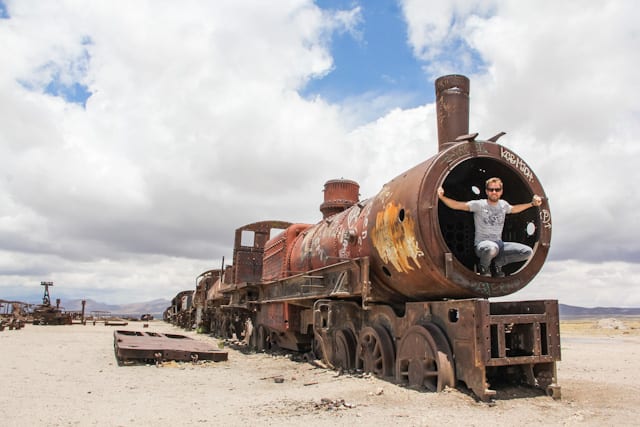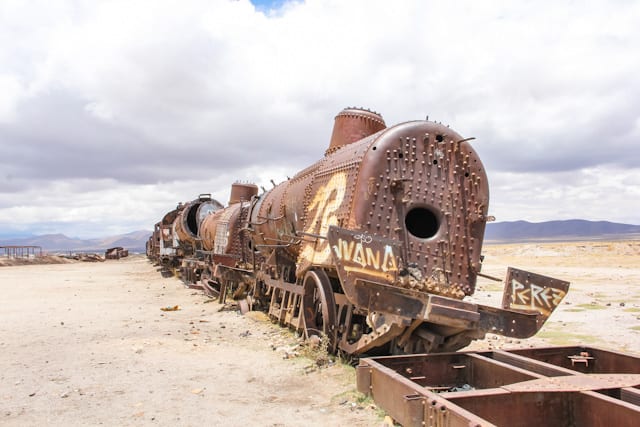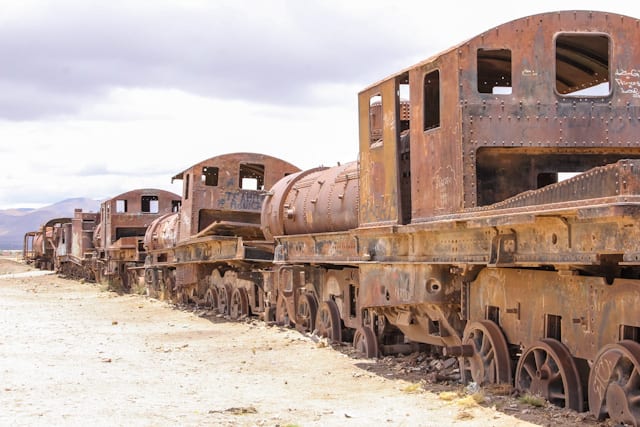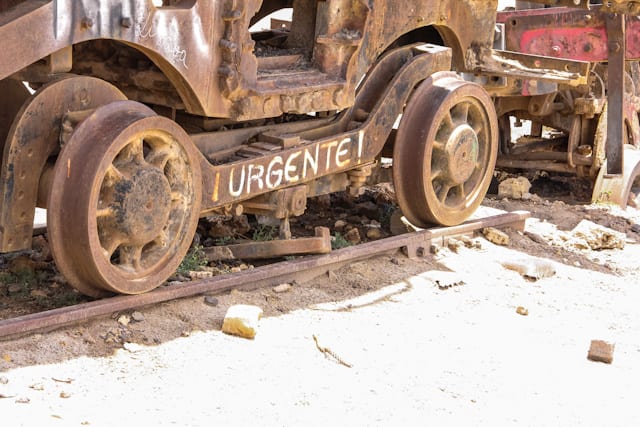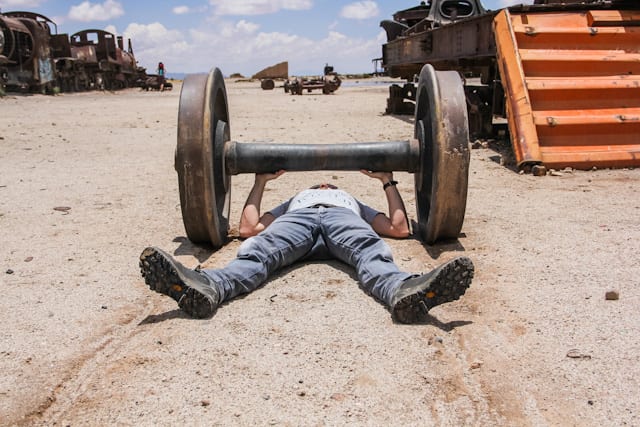 We bade farewell to our dear Markles, who was heading down to Chile, and we boarded a plane to La Paz… this would prove to be the most terrifying experience of our lives… It was an 18 seater propella plane with a bench seat in the backrow and no toilet. There was no hostess and the cockpit had no door. I am not a big fan of small planes at the best of times so I just tried to read through our 45 minute flight while our pilot played on his Blackberry (yes, really).
Eveything was going fine until about half way through our flight (in which the pilots navigate by sight) we flew into a monstrous black storm that began throwing our plane around like a kite in a strong wind! Rain loudly pelted the roof of the plane that was only centremetres from our heads, all this reaffirming the fact that we were in a tin can hurtling through the sky! The pilots both gripped their steering wheels(?) while the controls flashed and screeched with warnings and hazards. Andy and I clung to each other across the aisle strapped into our flimsy seats bolted to the floor with what looked like a number 13 spanner. I think we really both did think we were going to die. Somehow, nearly two hours later our heroic pilots managed to get us safely onto the ground in La Paz. As our jelly legs led us off the plane Andy thanked the pilots who both laughed nervously at his obvious relief to be alive. He then then staggered down the plane's steps and promptly kissed the runway. The last pic is of us much shaken making our way down into La Paz.